Downtown Ballpark District delivers for KC neighborhoods, citizens and economy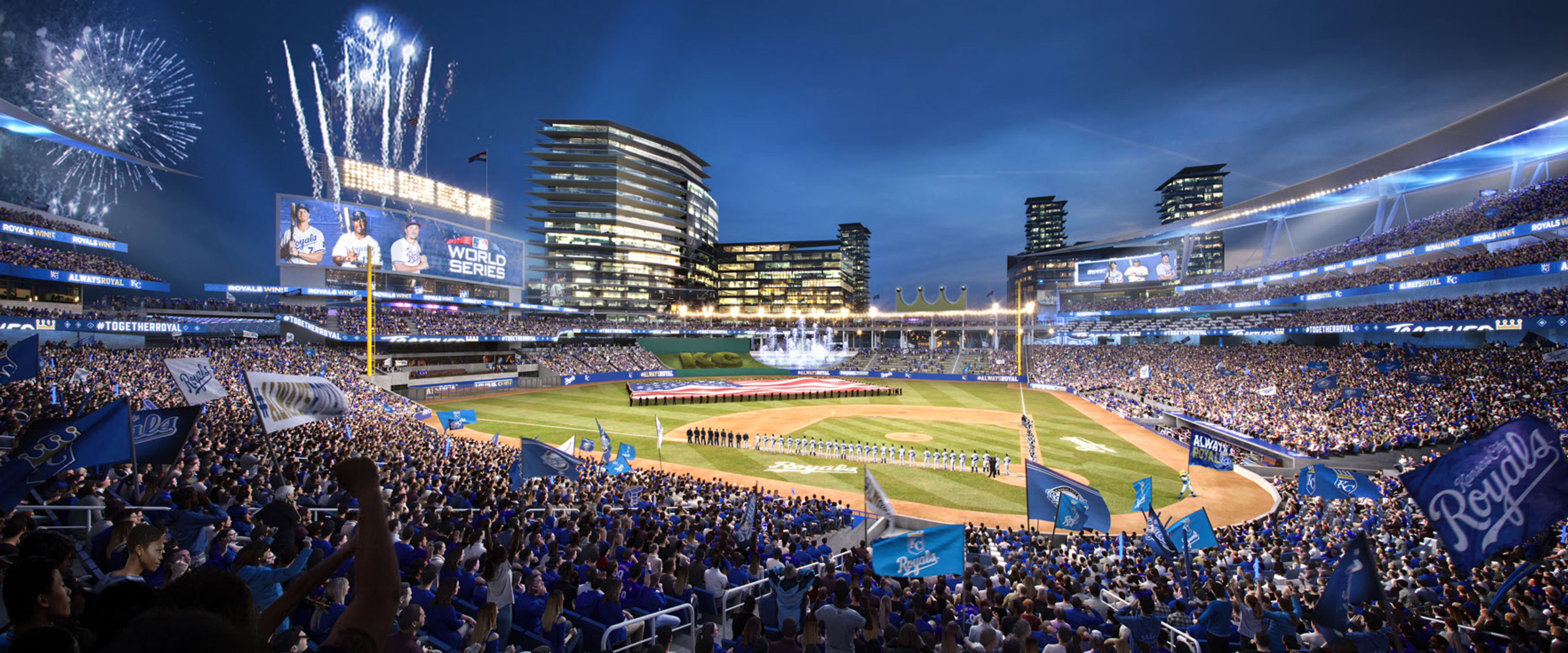 It's been said that baseball stadiums are never only about baseball. Truer words have never been spoken in relation to the conversation our community is having around the future home of the Kansas City Royals. At this moment, we have a once-in-a-lifetime opportunity to build a world-class baseball stadium in Jackson County and Kansas City while raising the economic and community benefits for our surrounding neighborhoods as well as the entire region. 
In the Royals' open letter to the community last November, they stated three criteria that would guide the search for their new home: real and measurable community impact, economic growth, and an enhanced quality of life for the citizens of our region, with an emphasis on historically under-represented members of our community. If these criteria remain the top priorities for the Royals, then Downtown Kansas City is the clear and best choice for our community.
The East Village site offers an unrivaled opportunity to improve the ballpark's accessibility and connection to surrounding neighborhoods as well as the entire region. It is located in the economic center of our region and provides a thriving, sustainable environment for major league sports to evolve and prosper. This is paramount for the decision ahead for both the Royals and the Chiefs. The East Village site will ensure success for the Royals as their new home and offer the Chiefs the opportunity to expand their facilities at the Truman Sports Complex – both teams would remain in Jackson County for generations to come.
For the past two decades, Downtown Kansas City has transformed from a single-use office district into a vibrant, diverse, mixed-use neighborhood animated by residents, visitors, and employees. Today, Downtown is the fastest-growing residential neighborhood of both Kansas City and the entire region. Downtown benefits from a substantial volume of mixed-income housing blended with the highest concentration of employees in the region, a strong convention and tourism business exceeding pre-pandemic levels, as well as award-winning restaurants and entertainment venues. Downtown endures as the region's hub for arts, culture, and entertainment. The interactivity of these diverse uses has accounted – to a large degree – for Downtown's renaissance and will ensure the success of a ballpark district, not just during the season but throughout the year.
Catalytic projects build upon each other, in vibrancy, experience, and economically. Imagine the Downtown KC Ballpark District in a constellation of world-class venues including the Kauffman Center for Performing Arts, T-Mobile Center, Power & Light District, Crossroads Arts District as well as the forthcoming South Loop Project, KC Current's professional women's soccer stadium on the riverfront, and the Greenline, a 10-mile walking and biking trail connecting neighborhoods and destinations throughout greater Downtown.
Unique assets like the Downtown KC Ballpark District have synergy with these key amenities. They mutually support each other and exponentially add to the economic impact of the region. New office, residential, and retail features that are part of the ballpark district will have the support of these activity generators to keep the district vibrant, successful, and growing throughout the year. However, that relationship is mutually supportive, as the millions of Royals' fans will walk through all the amazing offerings Downtown provides, supporting and experiencing our neighborhoods rich with diverse heritage, great entertainment venues, restaurants, and retail.
The ballpark district will leverage more than $10 billion invested in Downtown Kansas City over the past two decades. It will serve as a catalyst for continued investment which will maximize community benefits for historically disadvantaged neighborhoods adjacent to the site. Physically connecting neighborhoods through infrastructure, enhancing affordability through the development of new mixed-income housing in neighborhoods where revitalization has already begun.  
Accessibility is key to removing barriers to participation by many of our citizens and Downtown's existing infrastructure provides seamless connectivity and accessibility to neighborhoods throughout the region. The East Village Transit Center is a hub for our city with 33 existing bus routes connecting Downtown to east and west side neighborhoods, suburbs to the north and south as well as the entire region. In addition, the expanding (free to the public) KC Streetcar line offers an opportunity for 47,000 residents who live along the streetcar corridor to enjoy a dinner in Midtown or the Plaza and a game Downtown, without a car.  
For those driving, 5 major interstates converge in Downtown with more than 20 ingress and egress routes. People will create their own favorite route and game day vignettes. Once in Downtown, there are more than 40,000 existing parking spaces conveniently located to accommodate different routes.
People can also connect to the Downtown KC Ballpark District by walking, bicycling, and scooters. Downtown KC has the highest walkability index in the region and a new public amenity being implemented is the Greenline. The Greenline is a 10-mile pedestrian trail that will connect neighborhoods and amenities that surround Downtown.
The Greenline provides a transformational community benefit opportunity – 6 blocks of streetscape installation will connect the ballpark district to thousands of residents from Pendleton Heights to 18th & Vine including the Kansas City Urban Youth Academy to the Westside. Imagine families, from all walks of life, walking or riding their bikes to games.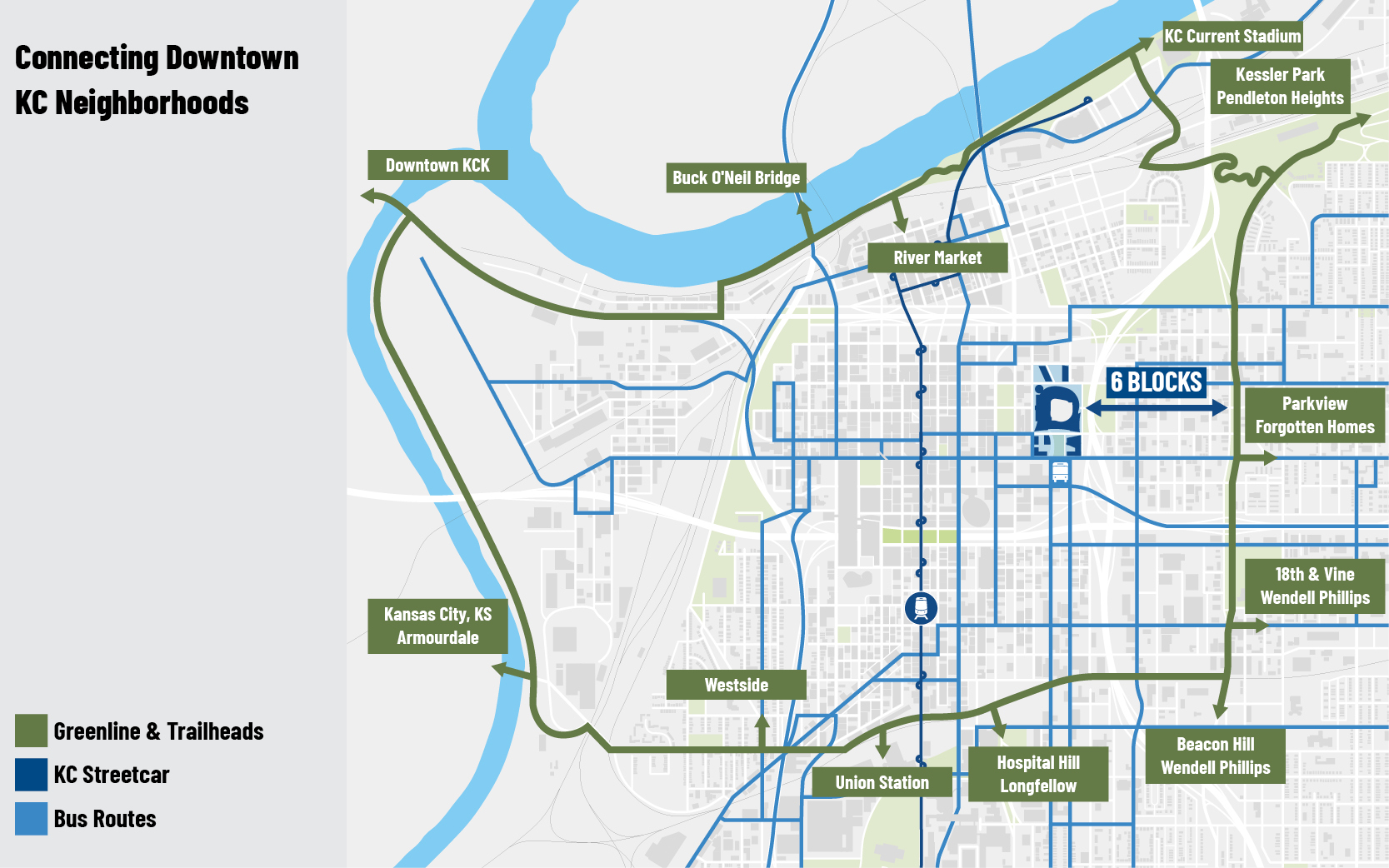 The East Village site provides us the opportunity to ensure a livable and equitable city for all by connecting historically disenfranchised communities, nurturing prosperous and creative economies while ensuring the preservation of our unique heritage, and helping bridge historic wounds that affect us all. The Downtown Ballpark District will return substantial community benefits to Jackson County residents by creating new jobs, new housing, neighborhood stabilization, and easier, more affordable access to games at the new stadium. Downtown Kansas City is the place where everyone in our community feels welcome. Sixty percent of the residential population within Greater Downtown is a diverse cross-section of African American, Hispanic, Asian, Native American, and those of mixed ancestry.
The city has a goal of creating 5,000 new affordable living units in these neighborhoods over the next decade. More than 5,400 affordable units currently exist near the site. They represent a major investment in maintaining affordability. The Downtown development community provides a platform and partner organizations to enhance that inventory, stabilize neighborhoods, and provide hope for real change. There are more than a dozen affordable and mixed-income housing developers and organizations working in this space and another half dozen human services providers assisting the most fragile members of our community. The DTC with its broad membership of Downtown's most progressive businesses can facilitate development processes and provide working relationships with both of these networks.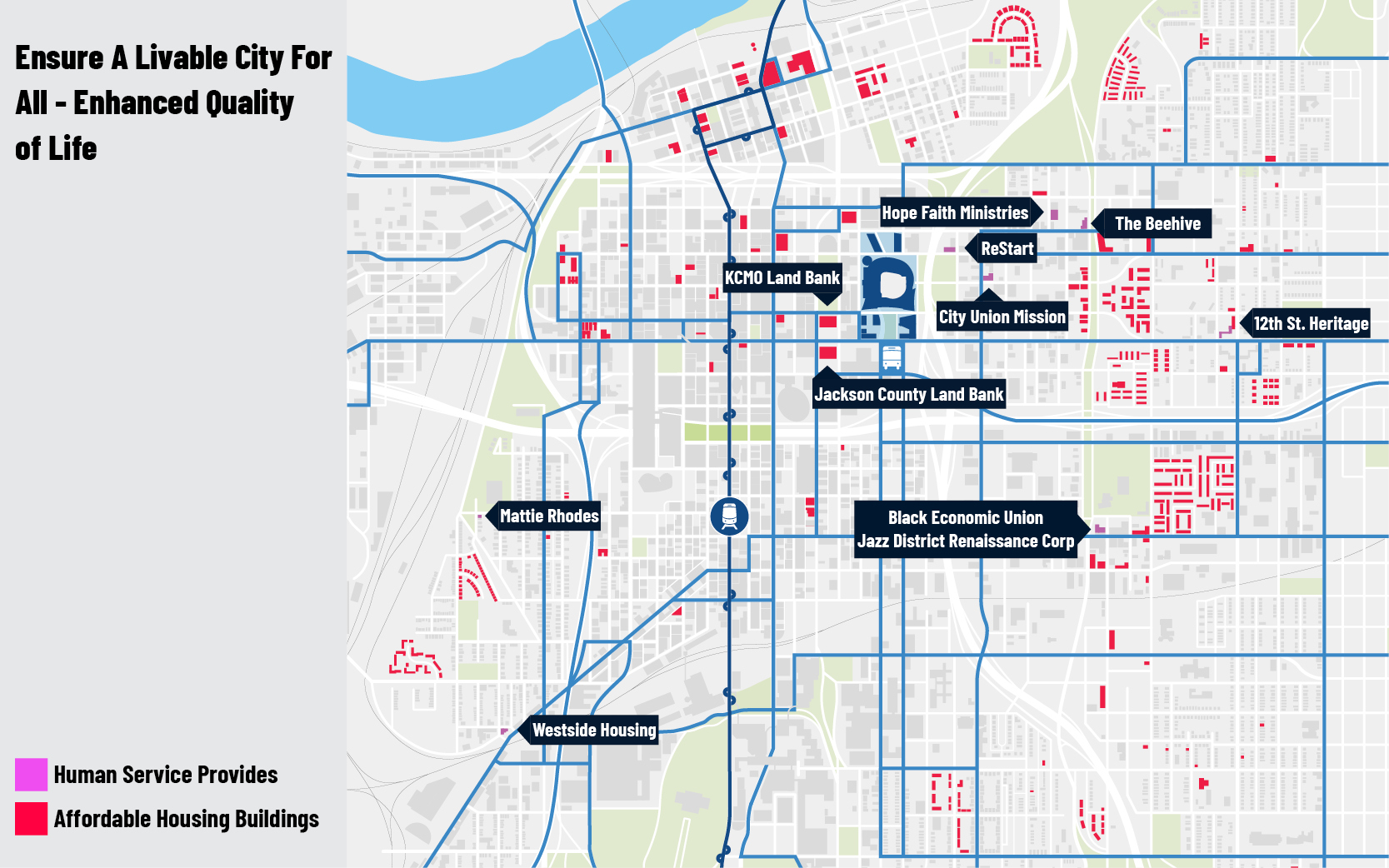 The office tower component of the ballpark district clearly has the best opportunity to attract a high-profile corporate tenant in this location. Since 2020 Downtown's employee population increased 8% to 122,442 and the number of businesses increased 5% to 4,004. Downtown KC is home to 35% of Kansas City Missouri's employee base and 28% of Jackson County's employees. There are more than 4,000 City, County, State, and Federal employees who work within two blocks of the East Village site.  Over a dozen major companies call Downtown their corporate headquarters.
As we're all aware, the pandemic greatly decreased the number of employees coming into offices around the world, here as well, but Downtown Kansas City has fared better than many cities and is experiencing a substantial rebound. Looking at the number of employees coming into Downtown year-to-date and comparing it to that same time period in 2019 we find that we are at 75% of pre-pandemic visits to the office. We equate this strong rebound to our rich cultural, arts, and sports mix, a strong resident base, and a strong visitor market that has kept our ground-floor retail alive. All provide a dynamic environment the younger generation of employees seek.
The Downtown residential market and residents support our local economy. Currently, Downtown Kansas City is the fastest-growing and most diverse neighborhood in the metropolitan area. Downtown added 3,900 new residents during the pandemic. If Downtown KC were a city it would be the 11th largest in the region. As this trend continues, we are confident the residential development in the Downtown KC Ballpark District will be incredibly successful.
Increasing density is central to our long-term sustainability and resilience as a city, it is important to our national competitive position. Downtown's residential density collectively results in the highest buying power in the region. In addition, Downtown KC's residential population and their buying power will sustain the ballpark district's retail businesses throughout the entire year, beyond just the baseball season.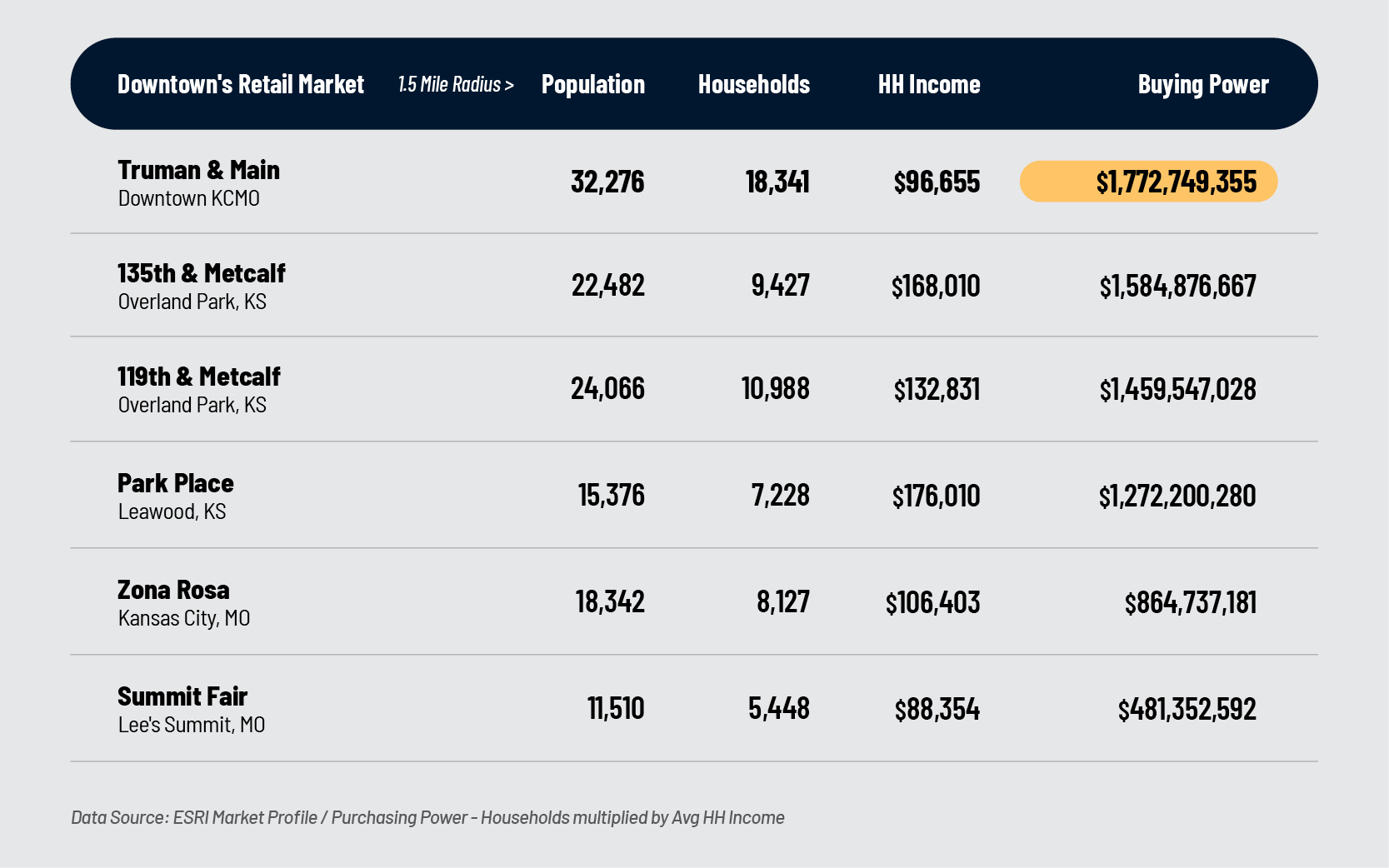 This growth in density benefits governments as well. Successful commercial investment adds to density and adds to property valuation throughout, the Central Business District has experienced a 61% growth in property value. We have seen the same phenomena within the KC Streetcar Transportation Development District with sales tax growth Downtown far outpacing the city and county as a whole. That trend will only continue as we add new amenities to the market.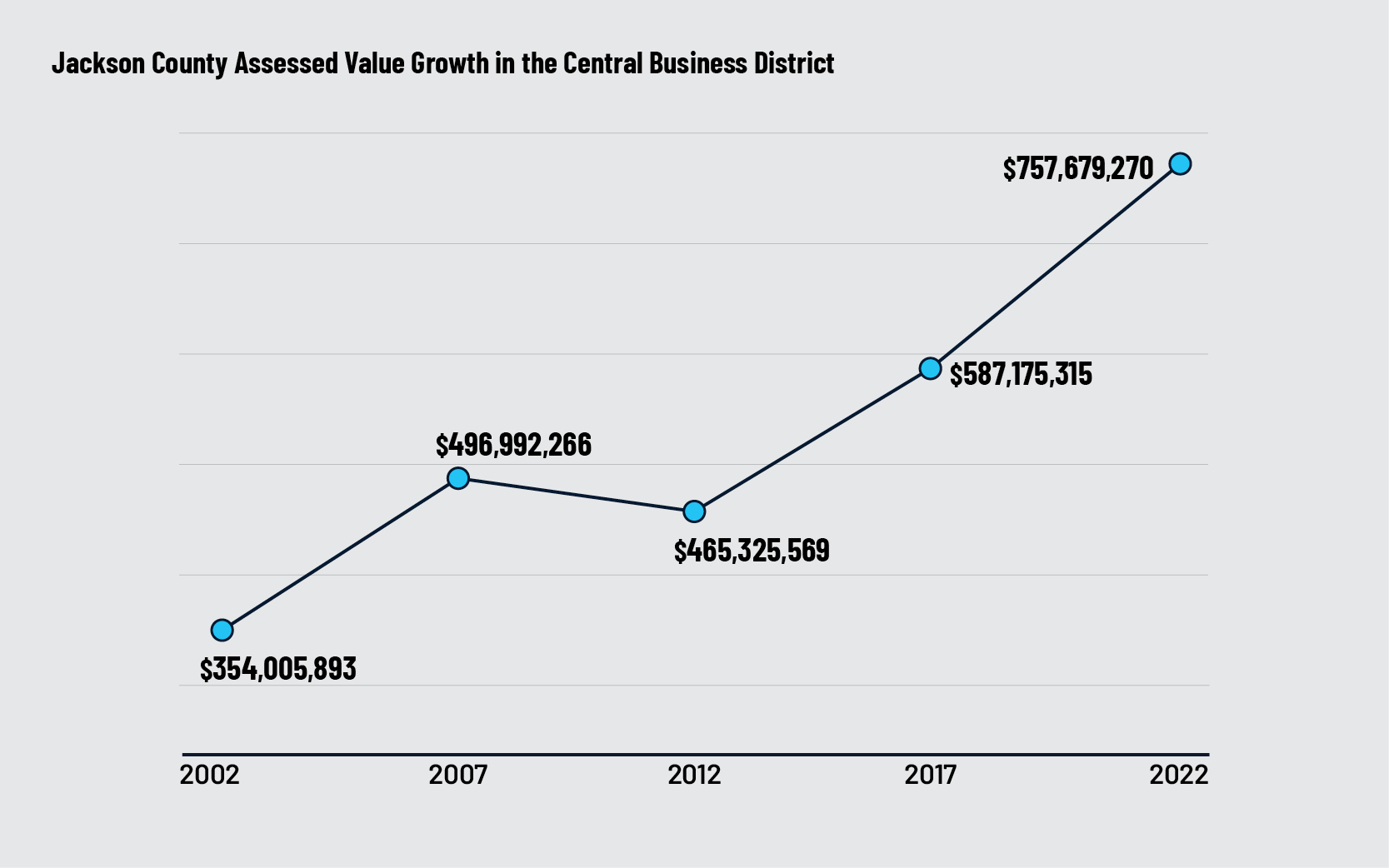 The visitor and convention market segment has recovered and is at pre-pandemic levels and growing. To date, Downtown has had more than 29 million visits in 2023 from 5 million unique visitors – compared to 2019, when we experienced just over 30 million visits – achieving 96% visitor recovery. The trend is positive, the number of visits during this time is up almost 7% from 2022…more visitors mean more opportunities, more sales, and more walk-up business.  Many of those visitors are coming from throughout the region – Downtown is a destination for everyone from east to west, north to south.
Centrality, accessibility, community partnerships, and a growing business, residential, and visitor base provide the Downtown KC Ballpark District with the only opportunity to change the course of our team, our city, and our county for generations; it makes Downtown Kansas City truly a legacy choice.
A Downtown KC Ballpark District will be an economic engine for our city, county, and region.  As the Imagine Downtown KC strategic plan highlights, "Cities that have developed Downtown ballparks have experienced substantial secondary economic development. These unique assets have a multiplier effect in an urban context." Not only that, but a ballpark district can be a catalyst for generational change in our urban center and be a causal agent in continuing to break down the historic divisions within our community; it has the potential to secure Kansas City's place as the comeback story of American cities: one of the most livable and progressive cities in America and on the global stage.
https://www.downtownkc.org/wp-content/uploads/2023/02/DowntownBallpark_01_sq.jpg
800
800
Bill Dietrich
https://www.downtownkc.org/wp-content/uploads/2017/05/DowntownKC_Logo_REVoutline.png
Bill Dietrich
2023-09-20 17:05:09
2023-09-20 17:04:20
Downtown Ballpark District delivers for KC neighborhoods, citizens and economy