South Loop Project Community Impact Goals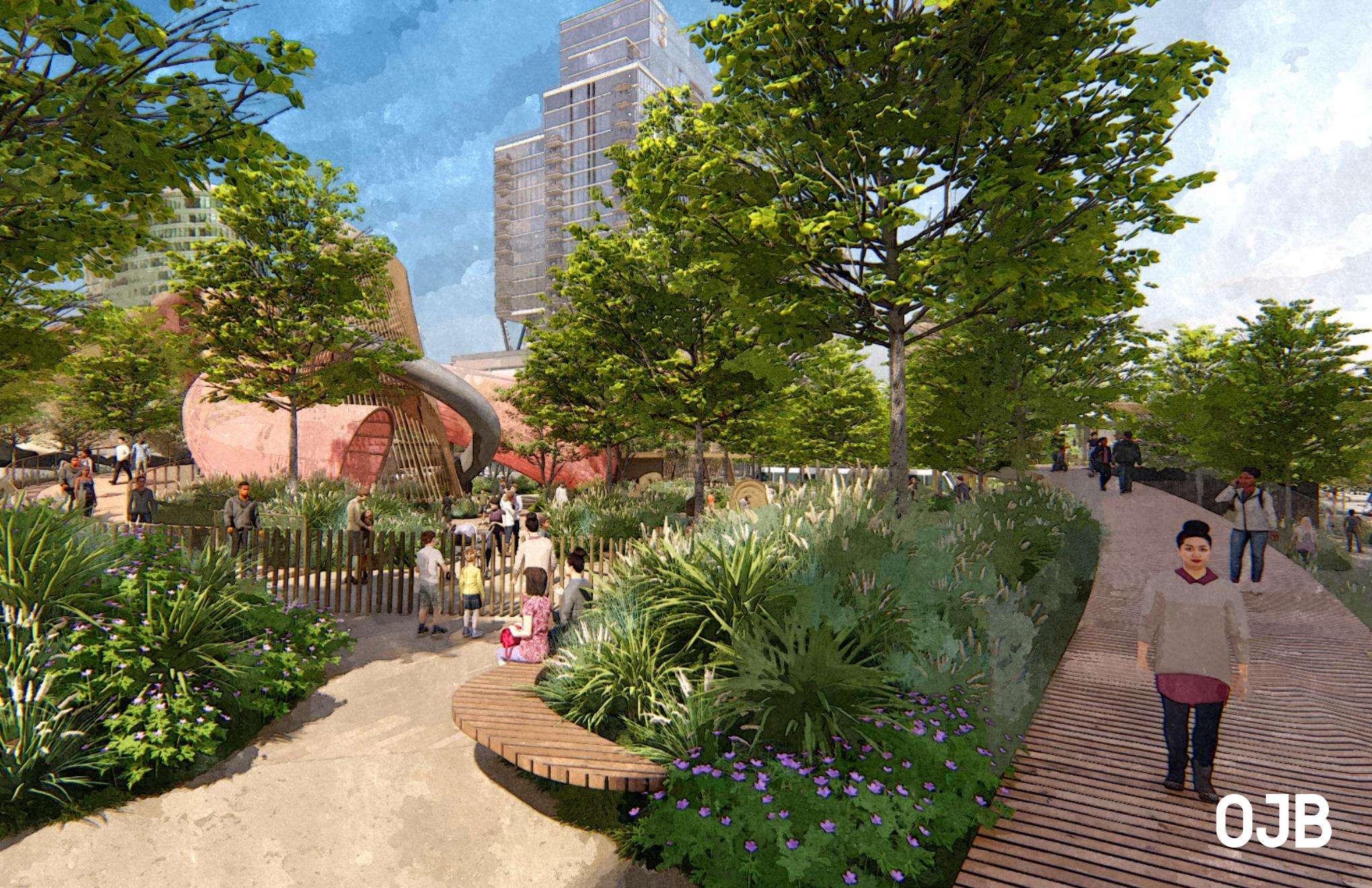 According to the City Parks Alliance, the benefits of urban parks include:
City parks encourage active lifestyles and reduce health costs.

City parks strengthen local economies and create job opportunities. 

City parks make cities more resilient.

City parks increase community engagement and reduce crime.

City parks help clean the air and improve public health

City parks are a tool for cities to achieve their equity goals.
Our goal is to see these benefits in the South Loop Project park. 
Community Impact of the South Loop Project 
The Downtown Council, in partnership with the City of Kansas City and Port KC, is working to implement one of the catalytic projects highlighted in the Imagine Downtown KC 2030 Strategic Plan: The South Loop Project, a four-block park covering the Interstate 670 (I-670) trench that creates a division between the Central Business District (CBD) and the Crossroads Arts District in the heart of Downtown Kansas City.   
Why is this a catalytic project? Because it provides the opportunity for the residents, employees and visitors of Greater Downtown, one of the most diverse neighborhoods in Kansas City, a place to gather, connect, exercise and recreate.
Over the past several years, there have been many public meetings and dozens of presentations to neighborhood and business organizations in an effort to get input and support from the community. There are two basic questions we hear from the community. The first question, "What is the South Loop Project?" is pretty straightforward. The second question, "This requires major investment, why are we doing this? What beneficial impacts will it have?" is a little more complicated.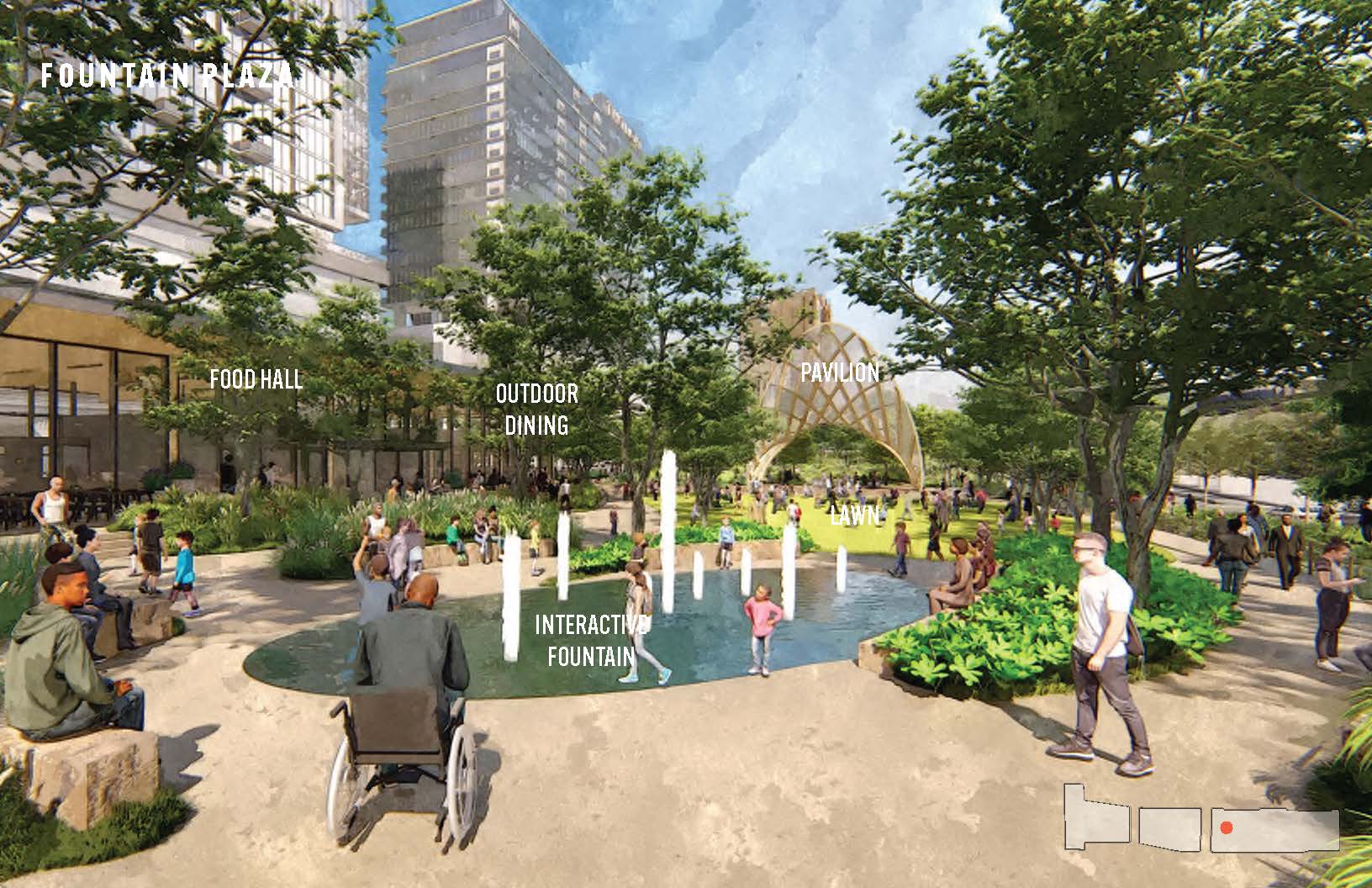 What is the South Loop Project?
The South Loop Project is a major urban infrastructure investment that includes a multi-purpose deck and sustainable gathering space in downtown Kansas City. The Project will bridge a four-block section above I-670 from Grand Boulevard to Wyandotte Street and connect the south side of CBD and the Crossroads Arts District. The proposed facility will also connect Kansas City's Bartle Hall Convention Center and T-Mobile Center. When completed, the South Loop Project will be a world-class facility that will welcome residents and visitors and will be a catalyst for further investment and economic growth in Kansas City and the state of Missouri. It will be a privately managed, actively programmed public gathering space with a 365-day event schedule.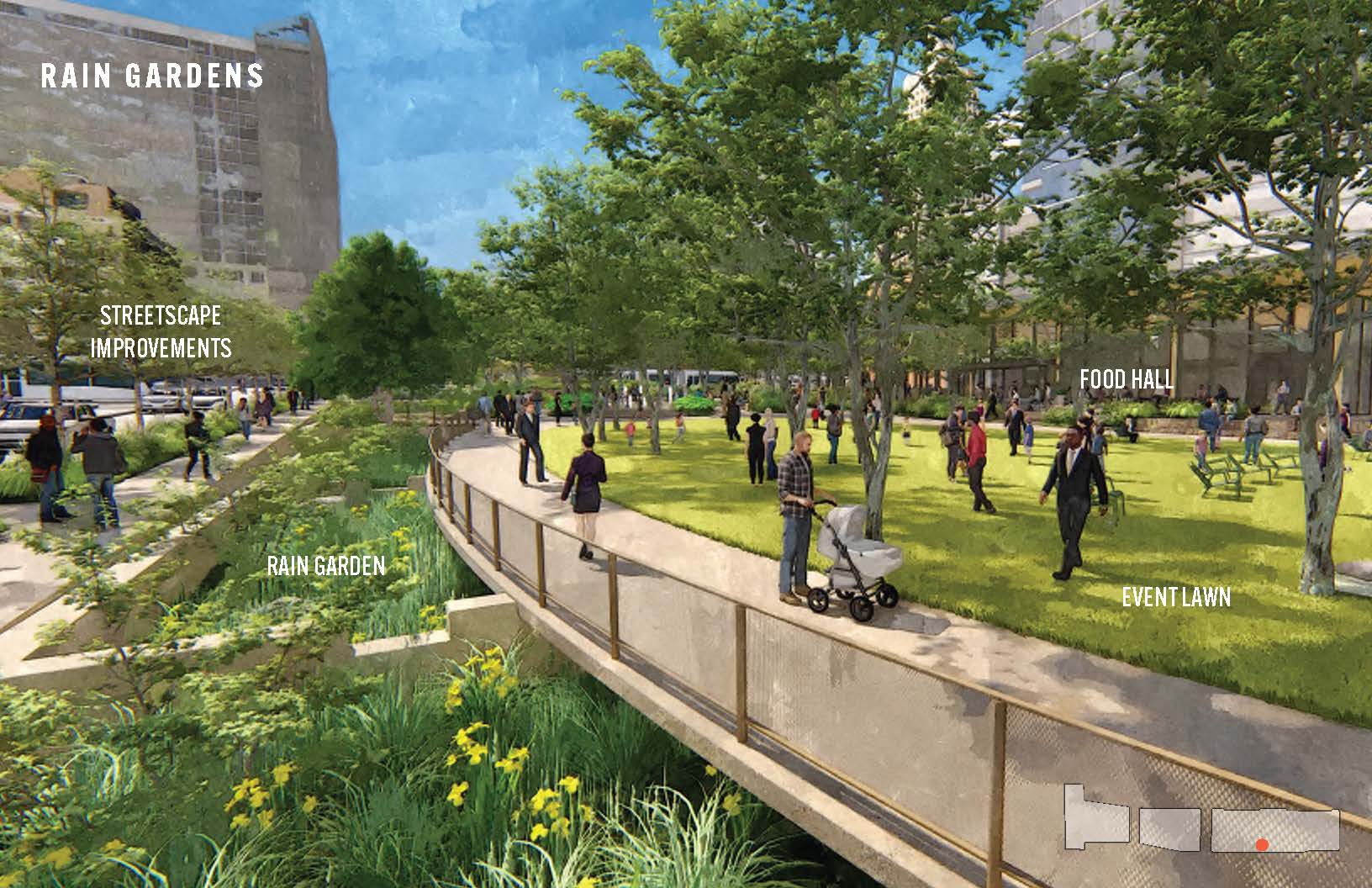 What beneficial impacts will be derived from the South Loop Project?
1. Bridges a divide and physical barrier in Downtown and reclaims space
Creates a new park space from air space above the interstate.

Heals the scars that were created by highway infrastructure.

Reunites divided communities and provides greater access to both sides of I-670.

Provides the opportunity to grow and strengthen local business and residential corridors.
2. Addresses infrastructure challenges
The I-670 retaining walls are over 60 years old and showing signs of deterioration and will be replaced.

The Walnut Street Bridge is nearing the end of its useful life and will be replaced. 

The project incorporates traffic calming to increase safety on Truman Road.
3. Enhances public infrastructure facilities
Structural and ventilation improvements to I-670 will be made to support the construction over the below-grade portion.

The project will integrate sustainable features and new infrastructure such as stormwater storage and reuse, public facilities, and multimodal transportation options. 

Improved transportation connections for streetcar, bus routes, and ride-sharing services for bikes, scooters, and cars. 

Kansas City is ranked as a 'car-dependent' city with a walkability index score of 35. The new South Loop Project will connect the CBD, Crossroads and Power and Light District enhancing pedestrian and cyclist mobility. 
4. Improves physical and mental health of residents/park users
Increase walkability and physical activity provided by park space.

Increase opportunities to connect with neighbors, employees, commuters, and visitors.

Improve air quality and mitigate the impacts of pollution by introducing hundreds of new trees into downtown. "In neighborhoods with a tree canopy of 30% or more, adults had 31% lower odds of developing psychological distress, and 33% lower odds of rating their general health as 'fair' or 'poor' over six years." – University of Wollongong.

"Only a few lifestyle choices have as large an impact on your health as physical activity. People who are physically active for about 150 minutes a week have a 33% lower risk of all-cause mortality than those who are physically inactive." – CDC

Bringing more nature into the center of Downtown KC will bring many positive aspects and opportunities:

Sunlight increases endorphins, regulates circadian rhythm, increases levels of Vitamin D, and reduces stress.

Movement helps improve cognitive performance.

Trees improve overall air quality which helps detoxify the body and improve cognitive abilities.

Smells of nature lower blood pressure, improve the immune system and help reduce stress.

Views of nature reduce stress and improve focus.

As the number of children living, going to school and visiting Downtown increases, the impact on our children becomes all the more important:

The South Loop can be a new outdoor classroom and field trip destination. It becomes a +1 to other field trips like the Kauffman Performing Arts Center, downtown or T-Mobile Center.

School performance increases when children learn outdoors.

Invites new context for learning.

Anchors learning in the real world.

Fosters communication and reasoning.

Supports childhood development.

More than 53 qualitative studies have shown outdoor learning yields improvement in interpersonal skills, a sense of well-being and scientific inquiry.
5. Improves Environmental Health
Decrease noise and air pollution from the I-670 trench as it runs through the center of Downtown KC.

Increase tree coverage in one of the least tree-covered areas of the city (mitigating the heat island effect). The district around the park is currently at 2% tree canopy and the city strives for a goal of 30%.

We are designing for thermal comfort by providing shade, maximizing the summer breeze from the south and shielding active spaces from winter winds from the north making it a year-round park.

Plants and trees capture atmospheric carbon and store it as biomass.

Lawns and rain gardens serve as natural biofilters for stormwater runoff.

Native planting and restored soils provide habitat for wildlife and pollinators.

We are implementing runoff-reduction strategies that improve water quality such as biofiltration.
6. Creates a safe, connected, and diverse community development and experience 
The park will also provide new public facilities and regular programming for health and welfare, including public restrooms, a civic and children's education center, community meeting spaces, public Wi-Fi, a dog park, and green spaces with landscaping features.

Improve connections to existing Downtown destinations and attractions (CBD, Crossroads, Paseo West, Hospital Hill, Parkview, 18th and Vine, Westside, and Quality Hill neighborhoods) – this project is designed to bridge the social gaps in the Downtown fabric to provide a network that supports connectivity and unity across the downtown neighborhood, area, and City experience.

The ongoing South Loop Project programming calendar will feature a diverse set of arts and cultural events, as well as health and fitness opportunities taking place in the park. Several venue spaces will allow for hosting free public events that include recreational activities, performances, local markets, and small business showcases.

The central and connective nature of the South Loop Project embeds a unique opportunity to highlight the diversity of Kansas City through arts, festivals, gatherings, and more.

The adopted Citywide goals of strong and accessible neighborhoods encapsulating history, arts, and culture are reflected in the impacts outlined above. The safe and authentic experience married with the enhancement of existing unique assets directly ties to area and neighborhood policies.
7. Provides heightened economic opportunity
Local construction jobs.

Operational, maintenance, event planning, and cultural programming jobs – a dedicated team to operate, maintain and activate the South Loop Project to ensure the park is safe, clean and active.

Hyper-local pop-up retail business opportunities.

Showcase local art and design.

Opportunities for local artists.
8. Builds equity
Provide equitable access for all ages and abilities to move throughout the park and around it.

Free programming to reflect the authenticity of Kansas City.

Provide opportunities for small business retail in the Food Hall and Park Building.

The park will be safe and welcoming for all.

Parks are one of America's most democratic spaces and foster a sense of connection and community.
The Downtown Council, City of Kansas City and Port KC are determined to create a new public space that encourages active lifestyles, reduces health costs, strengthens the local economy, creates job opportunities, increases community engagement, reduces crime, helps clean the air and water, improves public health and helps the City achieve its equity goals. The partnership is committed to meeting the goals outlined in the City's comprehensive plan "KC Spirit Playbook"
Attract and retain new residents while ensuring current residents can age in place

Contribute to the city's environmental sustainability and resiliency

Enhance or create new mobility options and foster a more connected city

Incorporate new technology and innovation to further the city's smart city goals

Increase equity by embracing diversity and creating economic opportunity

Increase housing choices and improve access to affordable housing for all Kansas City residents

Lead to equitable and sustainable growth or revitalization

Preserve and celebrate community character, history, art, and culture

Promote high-quality design

Protect or expand the system of parks, boulevards, and open spaces
The partnership is also working together to develop a framework that will ensure we maximize community benefits for all. Components of the framework include pre-construction, during-construction, and ongoing post-construction benefits during the operations of the park.
If you have thoughts, questions or comments regarding the process or would like to get involved in the Community Benefit framework discussion, contact Ann Holliday, Vice President of Strategic Initiatives, Downtown Council, ann@downtownkc.org or visit www.kcsouthloopproject.org.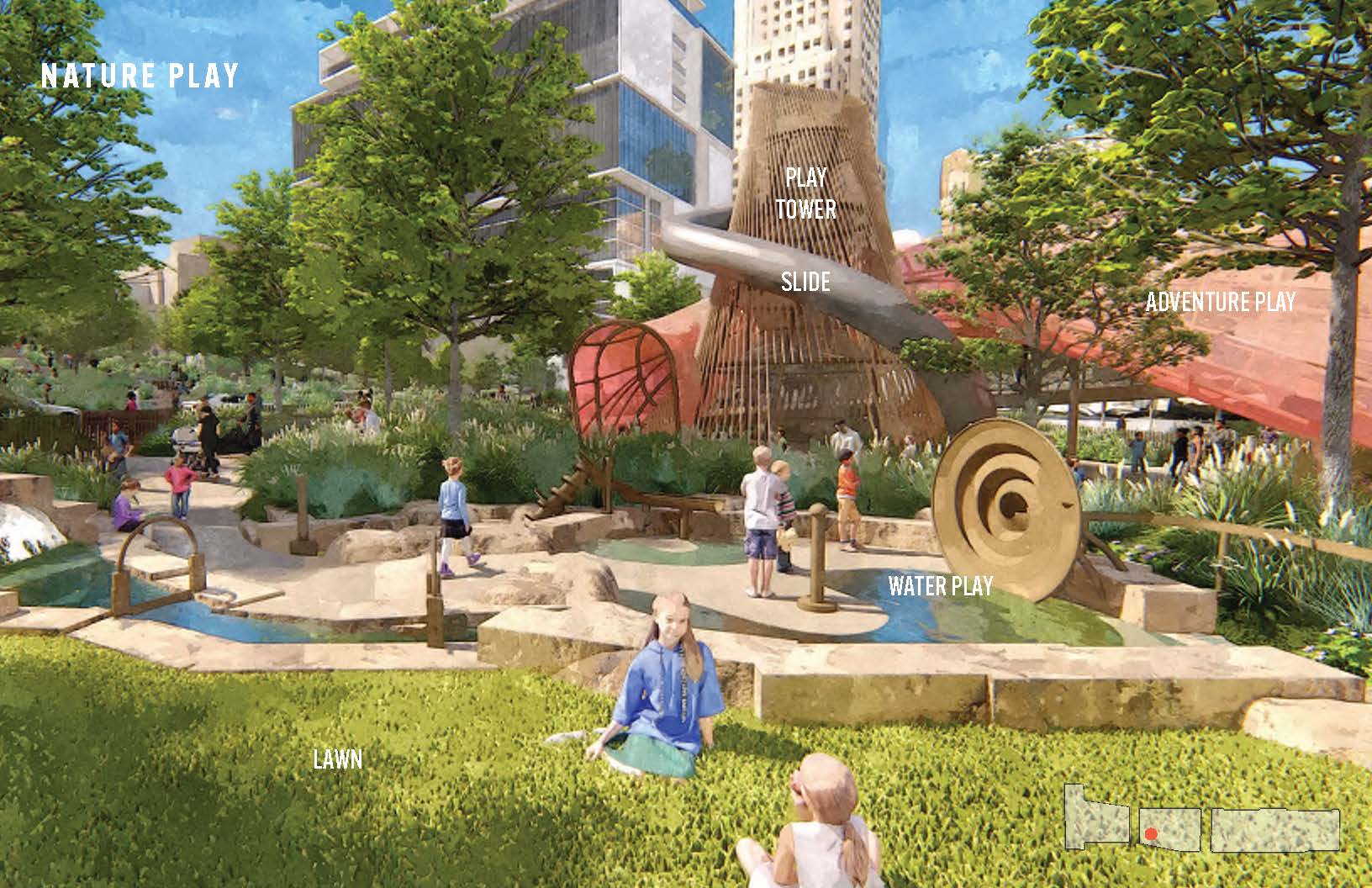 https://www.downtownkc.org/wp-content/uploads/2023/10/South-Loop-2023-10-Update-Featured.jpg
800
800
Ann Holliday
https://www.downtownkc.org/wp-content/uploads/2017/05/DowntownKC_Logo_REVoutline.png
Ann Holliday
2023-10-10 15:14:44
2023-10-10 15:18:01
South Loop Project Community Impact Goals