Morning Scoop 5.26 – OK to outdoor dining + AltCap fund
Remember – Blood drive at The City Market 9a-2p Tuesday
–
City approves temporary guidelines for outdoor dining
The City Council is making it easier for restaurants, bars and small businesses to expand service to their patrons by adopting a Temporary Outdoor Seating Program.
KCMO Public Works is working alongside City Council, the Mayor's Office and the City Planning and Development Department to temporarily ease permit requirements so that restaurants, bars and businesses can easily apply for street cafés, sidewalk cafés, parking lot dining space and parklets.
As KCMO gradually reopens and various guidelines remain in place to ensure proper social distancing, this effort supports the business and restaurant community by providing more outdoor space and allowing them to open up under these public health guidelines.
"I'm proud to see Kansas City create safer, socially-distanced opportunities for our workers, customers, businesses and neighborhoods by allowing restaurants to expand their outdoor sit-down service," said Mayor Quinton Lucas.
"I appreciate my City Council colleagues and our shared priority to continue creating new, innovative policy that's good for people, public health, and our city."In order to promote social distancing and provide outdoor space for restaurants and businesses while KCMO slowly reopens, we are temporarily easing some requirements for sidewalk cafés, street cafés, parking lot dining and parklets."
Click here to review for the City's how-to guide.
–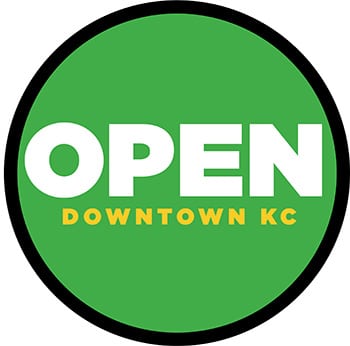 Downtown KC is OPEN for business – click here to learn more
–
KC small business relief loan fund to start another round
A loan fund for KC area small businesses impacted by the COVID-19 pandemic will resume taking applications
AltCap said it will begin taking new applications for funds from the KC Region Small Business Relief + Recovery Loan Fund on Wednesday.
In this round, area small businesses can apply for loans of as much as $50,000, according to The Kansas City Business Journal. The loans are for a three-year period, with no interest and deferred payments for the first six to 12 months, according to a release.
The fund launched on March 31 as a community effort to support small businesses, particularly those lacking relationships with banks. It made loans available to area companies with fewer than 20 full-time-equivalent employees and less than $2.5 million in revenue. The first round, which offered loans of as much as $100,000, found a flood of demand, with more than 600 loan requests received in 72 hours.
To learn more, visit the AltCap website.
https://www.downtownkc.org/wp-content/uploads/2020/05/OpenDTLogoWebsite-1.jpg
800
800
Mike Hurd
https://www.downtownkc.org/wp-content/uploads/2017/05/DowntownKC_Logo_REVoutline.png
Mike Hurd
2020-05-25 07:24:47
2020-07-15 13:01:17
Morning Scoop 5.26 – OK to outdoor dining + AltCap fund