Downtown Kansas City leaders respond to COVID-19 challenges
from … The Morning Scoop – Downtown Council of KCMO, March 26, 2020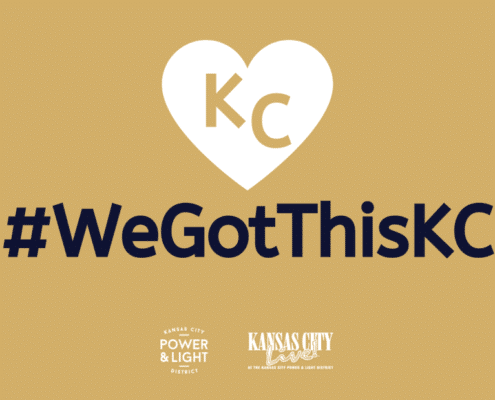 P&L District aims to inspire with 'positive vibes only'
The Kansas City Power & Light District introduced the  "We've Got This, KC!" campaign this morning. It is designed to inspire us during these challenging times.
"During this unprecedented time, we wanted to take a moment to tell you that YOU are great. YOU will get through this. WE will get through this," the campaign begins.
"Keep your head up.
"We are finding inspiration everywhere – in our community and in each other. We feel confident that by sticking together and supporting each other, we will emerge from this stronger than before. We got this, KC!
"Over the next few weeks, we will be using our website and social channels to share powerful and positive messages from our community. Please post your words of encouragement, uplifting stories or funny moments to Facebook, Instagram or Twitter using the hashtag #WeGotThisKC
"Take care Kansas City, and we will see you soon.  Positive vibes ONLY!"
Great job to our friends at Cordish. We've got this, KC!
—
CIDs mobilize forces for COVID-19 response
"Stay at Home" may be the new normal in Kansas City beginning today, but it has inspired the Downtown and River Market Community Improvement Districts to double-down on their daily mandate to keep neighborhoods clean and safe.
"We have been in contact with the International Downtown Association and local health officials and have implemented all protocols to keep our Ambassadors safe and help slow the progression of the virus," said Sean O'Byrne, executive director of the CIDs.
"We have been in communication with the Mayor's Office, the Chief of Police and the KCATA," he said. "We want our team to be part of the fight against the spread of the Coronavirus and COVID-19."
In addition to the CIDs' basic services, O'Byrne said all Downtown and River Market CID services are in operation during the stay-at-home order, including disinfecting KCATA and KC Streetcar stops and stations; and feeding homeless and at-risk persons in Downtown.
Due to a waterline break at the Downtown Community Kitchen, O'Byrne said lunch service for those who are homeless or at risk of being homeless have been moved temporarily to Morning Glory Ministries, 1112 Broadway.
"We are committed to helping our Downtown and River Market families, tenants and visitors during this time," O'Byrne said. "We also will strive to create an environment that is prepared and ready to continue our amazing revitalization, once this pandemic is over."
—
Library is closed, but digital resources are open for business
While the Kansas City Public Library has temporary closed all 10 locations due to COVID-19, there is some great news to report its digital branch is always open.
The Library's extensive menu of digital resources is available for the community to access and enjoy, from e-books, digital magazines, downloadable audiobooks and streaming movies, music, and television shows to online research and learning tools.
Those who don't yet have a Library card can get immediate access by signing up for an eCard. Learn more about ongoing changes to digital services during the outbreak.
—
City provides links to resources
If you would like to receive updates about what the City of KCMO is doing in response to the coronavirus COVID-19, text COVIDKC to 888777.
The KCMO Health Department does not test for COVID-19. If you have a cough and fever, call your health care provider before going in for a test.
The Missouri Department of Health and Senior Services is operating a hotline for residents and health care providers at 877-435-8411. The hotline is being operated by medical professionals and is available 24 hours a day, 7 days a week.
https://www.downtownkc.org/wp-content/uploads/2020/03/WeGotThisKC_Web.jpeg
1000
1000
Mike Hurd
https://www.downtownkc.org/wp-content/uploads/2017/05/DowntownKC_Logo_REVoutline.png
Mike Hurd
2020-03-26 12:43:10
2020-03-30 18:01:18
Downtown Kansas City leaders respond to COVID-19 challenges