Downtown KC Goes to Downtown Chicago – 2023 International Downtown Association Conference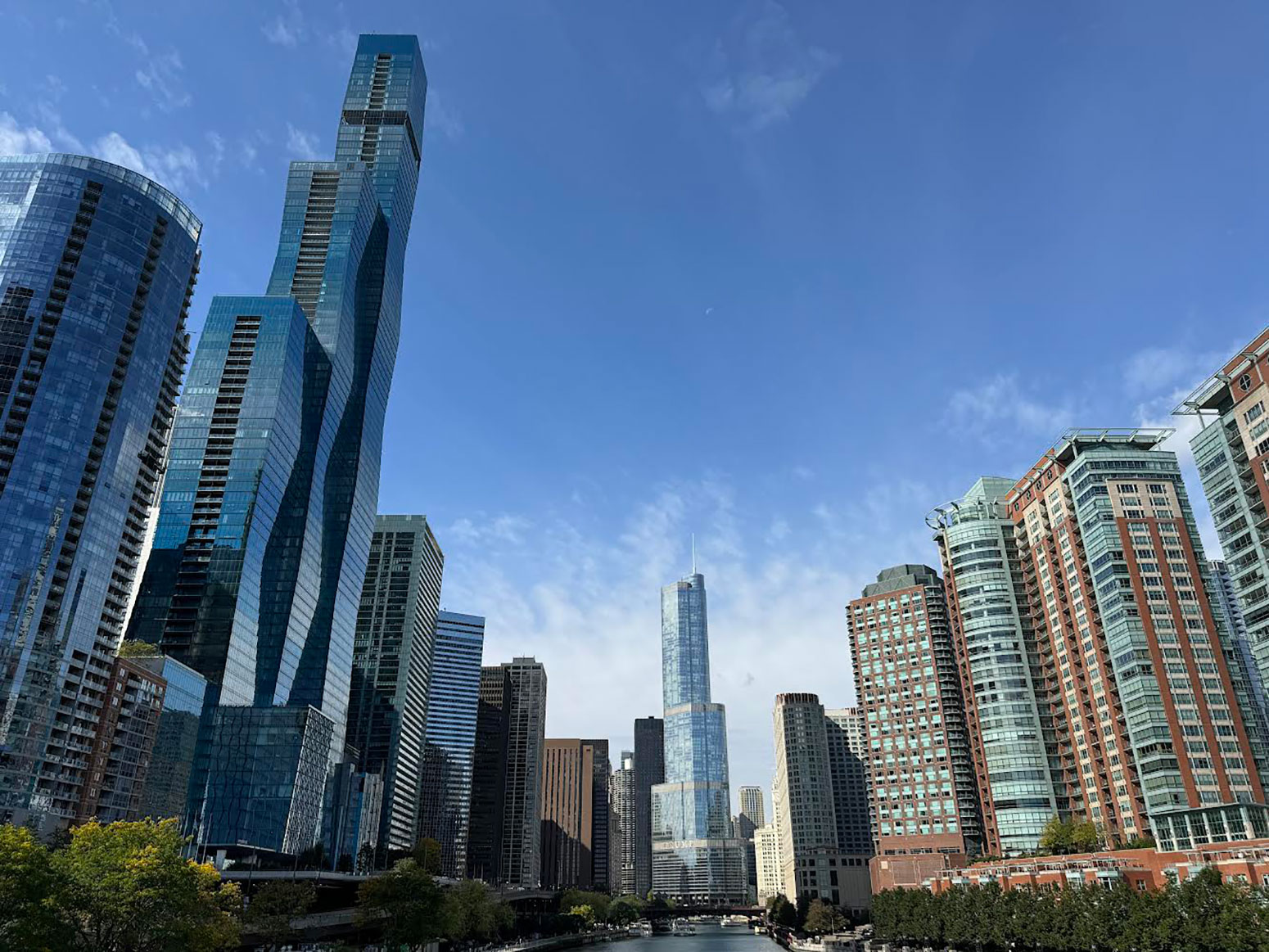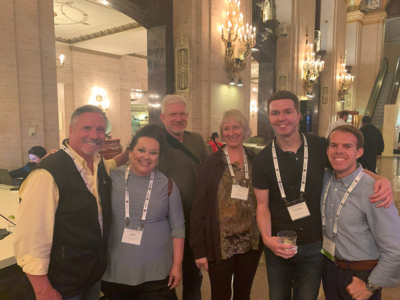 By Ann Holliday, Vice President of Strategic Initiatives at Downtown Council of Kansas City
In early October, six Downtown Council staffers visited the Windy City for a 3-day immersion into "Community, Culture & Commerce", the 69th Annual International Downtown Association Conference, co-hosted by the Chicago Loop Alliance! Over 1,400 inspired leaders shaping cities around the globe convened to discuss emerging trends in place management.
Topics ranged from implementing and nurturing public-private partnerships to recognizing a city's unique customs, traditions, and heritage while acknowledging how commerce is the main driver for districts globally.  Chicago provided the perfect backdrop for this year's conference with its rich public art, entertainment, dining, shopping, cultural attractions, nature, business, and residents in a harmonious multi-use setting.
Master talks at the conference focused on trends impacting the future of Downtowns from climate change to "work from home" to economic disparity to retail reinvigoration and compassionate growth.  A highlight was the presentation of the Downtowns Rebound: the Data Driven Path to Recovery by Paul Levy, President & CEO of the Center City District in Philadelphia. For more information on Downtown KC's rebound read this recently published blog post "Downtown Kansas City's Pandemic Receovery is Strong" by Tommy Wilson.
How did Downtown Council staff spend their time at the conference?
Ann Holliday, DTC Vice President and Art in the Loop Executive Director, focused on relationship and partnership management, public art and placemaking, park activation, and how to rethink our legacy urban freeways.
Sean O'Byrne, DTC Vice President and CID Executive Director, toured Michigan Avenue, focusing on retail attractions and streetscapes, and discussed collaborative houseless services programs.
Jared Campbell, CID Resident Engagement Manager, took an in-depth look at CID/BID operations and toured the Lakeview Low-Line.
Tommy Wilson, Director of Recruitment and Research, met with his research colleagues from across the country and did a deep dive into Downtown data, including office and retail.
Julie Shippy, Membership and Events Manager, learned best practices in membership development.
Bill Dietrich, President and CEO met with other downtown organization leaders to forecast trends and trade challenges and solutions.
Read on for insight directly from the staff:
Which session, tour, or talk did you find most interesting? Why?
Sean: The Michigan Avenue Tour was the most interesting to me. I was impressed with all the things they were able to do on an $800,000 budget. Their tree well competition was one of the more notable programs they are doing. I believe that is something we could replicate here in Kansas City.
Photos: Michigan Avenue Tree Wells and Planters
Jared: While I enjoyed all the sessions and tours I attended, the Lakeview Low-Line tour was the one I found the most interesting. For a relatively small amount of money, distributed over two phases, the Lakeview Chamber of Commerce and one of their SSAs (special service area) have been able to reclaim and improve the empty space under sections of the "L" train tracks.  What used to be a vacant space full of weeds and garbage has been transformed into a walking trail with artwork, landscaping, and "Instagramable" places to sit and take pictures.  They also turned an old gravel lot into a community gathering space where they have a farmer's market on Tuesdays and pop-ups during the holiday season.
Photos: Lakeview Low-Line
Bill: I enjoyed learning about resiliency, density, and the relation therein.  On Michigan Avenue, they are experiencing a 30% vacancy rate on ground floor retail.  But due to the density of the ground floor businesses you don't experience it, your eye focuses on the existing exciting retail.  This relationship enables the existing retail to survive and maintain its level of vibrant foot traffic which enables it to be in a position to more easily infill lost retail, i.e. resiliency.  Density matters for sustainability in retail, office, residential, or visitor economies.
Julie: All the sessions and tours were great. In the Membership Organization FaciIitated Discussion, I learned how other peer organizations deal with events, forums on what the organization is doing, happy hours and networking opportunities, how to engage members, keep our members in the loop on Downtown, and how to get new prospects.
Ann: I participated in a Relationship Management Workshop that reminded us that community building is continual trust building and rebuilding. That partnerships are messy but critical and the basis of all downtown work; that downtown organizations are "serving a place and all of the people that use that place;" and that downtown organizations need to be problem solvers and allies with our elected officials and not problem creators!
What solutions or practices did you learn that you would like to implement in Downtown Kansas City?  
Jared: Building on the Lakeview Low-Line tour, I would like to implement small-scale, but impactful art as we add more green space and trails downtown. For example, the Low-Line installed light boxes along the trail that light up at night and can be programmed to change colors based on holidays, sporting events, etc. What I was even more impressed with were the metal panels that they had installed along the trail and at the community gathering space that were painted by artists selected by a committee. These panels are easy to maintain and future artists can just paint over the existing paint when new artists are selected. These panels did not take up a lot of space which is a positive for future trails that might not have a lot of extra width or pocket parks where we want art that can be changed but can't spend the money for sculptures.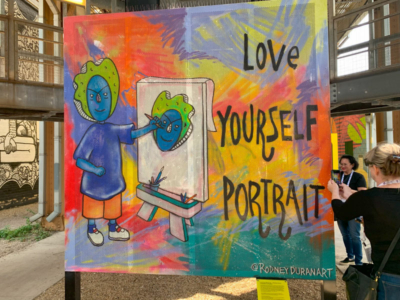 Photo: Artwork on the Low-Line
Bill: We must confront the "urban doom loop" in academia or the media at every opportunity. Facts matter, data matters and effective storytelling is key to continued momentum. Don't let others define your reality. Continue to gather and share data-based metrics.
Julie: Engage members more by having quarterly forums about what we do (we can never tell DTC Members enough about what the DTC/DCID team does in the office). We also need to implement more art in Downtown KC.
Ann: I would love to replicate Downtown San Francisco's Glow SF projection art programming in Downtown KC.  I also toured a parking lot that was turned into a community garden and gathering space. "The Winthrop Gardens" was one of the award-winning projects that reinvigorated the space with a garden as a vibrant outdoor open space for gardening demonstrations, markets, neighborhood events, and more, all while sharing the rich history of the Winthrop Avenue families within the Uptown neighborhood.
Photos: Downtown SF Projection Art and Winthrop Gardens
What was your favorite thing about the city of Chicago?
Sean: The Elevated Rail and their integrated transit system – it's well thought out and efficient for moving residents and visitors.
Jared: I really enjoyed getting around on the "L" while in Chicago. It is such an extensive train system that it really can take you anywhere you need to go in the city.  An additional bonus is that many of the tracks are elevated. Between being a story up and having the buildings downtown create such a canyon effect, it magnifies the impact of being in such a big city.
Bill: It's vibrant street life and easy accessibility
Julie: People, everywhere we went. Downtown Chicago was packed. Rain or shine, everyone was walking.
Ann: The juxtaposition of the city, skyscrapers and hardscape with Lake Michigan's natural beauty!
In summary, the conference was an invaluable experience with opportunities to network and learn from our colleagues around the world, while at the same time sharing our expertise and the exciting story about Downtown Kansas City!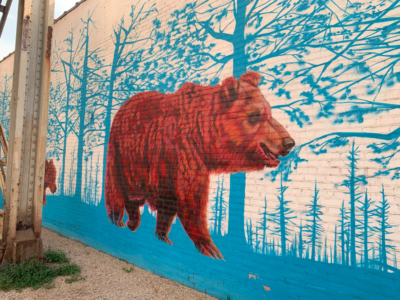 Photo: Mural on the Laveview Low-Line
https://www.downtownkc.org/wp-content/uploads/2023/10/DTC-IDA-2023-Featured.jpg
1000
1000
Ann Holliday
https://www.downtownkc.org/wp-content/uploads/2017/05/DowntownKC_Logo_REVoutline.png
Ann Holliday
2023-11-20 06:00:10
2023-10-30 16:02:48
Downtown KC Goes to Downtown Chicago – 2023 International Downtown Association Conference