Engaging Artists in the Revitalization of Downtown KC
Learn more about Art in the Loop! This video tells the story of the organization's founding, purpose and future.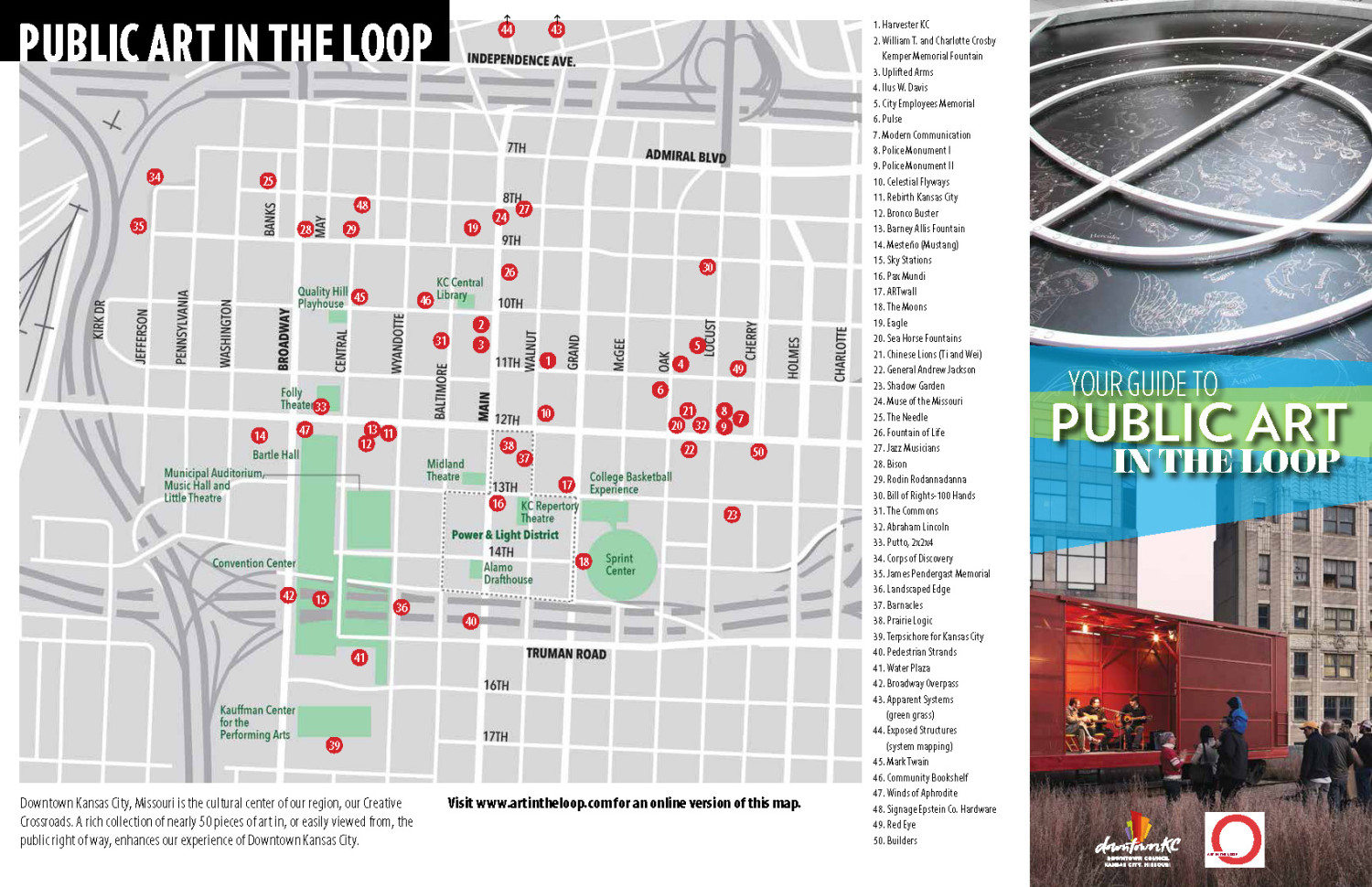 CENTRAL BUSINESS DISTRICT
Public Art Map
AILF has commissioned 4 installations in Downtown Kansas City which are indicated with the red markers in the map below. Many other entities including the Municipal Arts Commission of Kansas City, Missouri (KCMO) the Parks and Recreation Department of KCMO, the City of Fountains, as well as private entities have installed or maintain art in the public realm of Downtown Kansas City. (Click on the icons for images and information.)
The mission of the Art in the Loop Foundation (AILF) is to contribute to the visual identity, enrichment, and revitalization of Downtown Kansas City, create new opportunities for artistic development, and expand public interaction with new art of excellence. AILF is 501(c)3 nonprofit organization dedicated to commissioning public art for Downtown.
AILF seeks to play a proactive role in bringing further attention to Kansas City as a place where exciting and accomplished contemporary art is not just happening but is, in fact, helping to define the city's identity.
Our Board of Directors
Douglas Y. Curran, Chair – Partner, Stinson Leonard Street LLP
Porter Arneill – Director/Public Art Administrator, Municipal Art Commission, City of Kansas City, Missouri
Grant Burcham – President, Missouri Bank & Trust
Jon Copaken – Principal, Copaken Brooks 
Bill Dietrich – President & CEO, Downtown Council of Kansas City
Cathy Beaham Smith – Vice President, Corporate Planning, Faultless Starch/Bon Ami
Randy Williams – Director, Foundation and Cooprorate Development, Kansas City Art Institute
Our Program Director
Ann Holliday, Downtown Council of Kansas City
ann@downtownkc.org
(816) 979-1072
1000 Walnut, Suite 200
Kansas City, Missouri 64106