International EDC honors LaunchKC's Social Venture Studio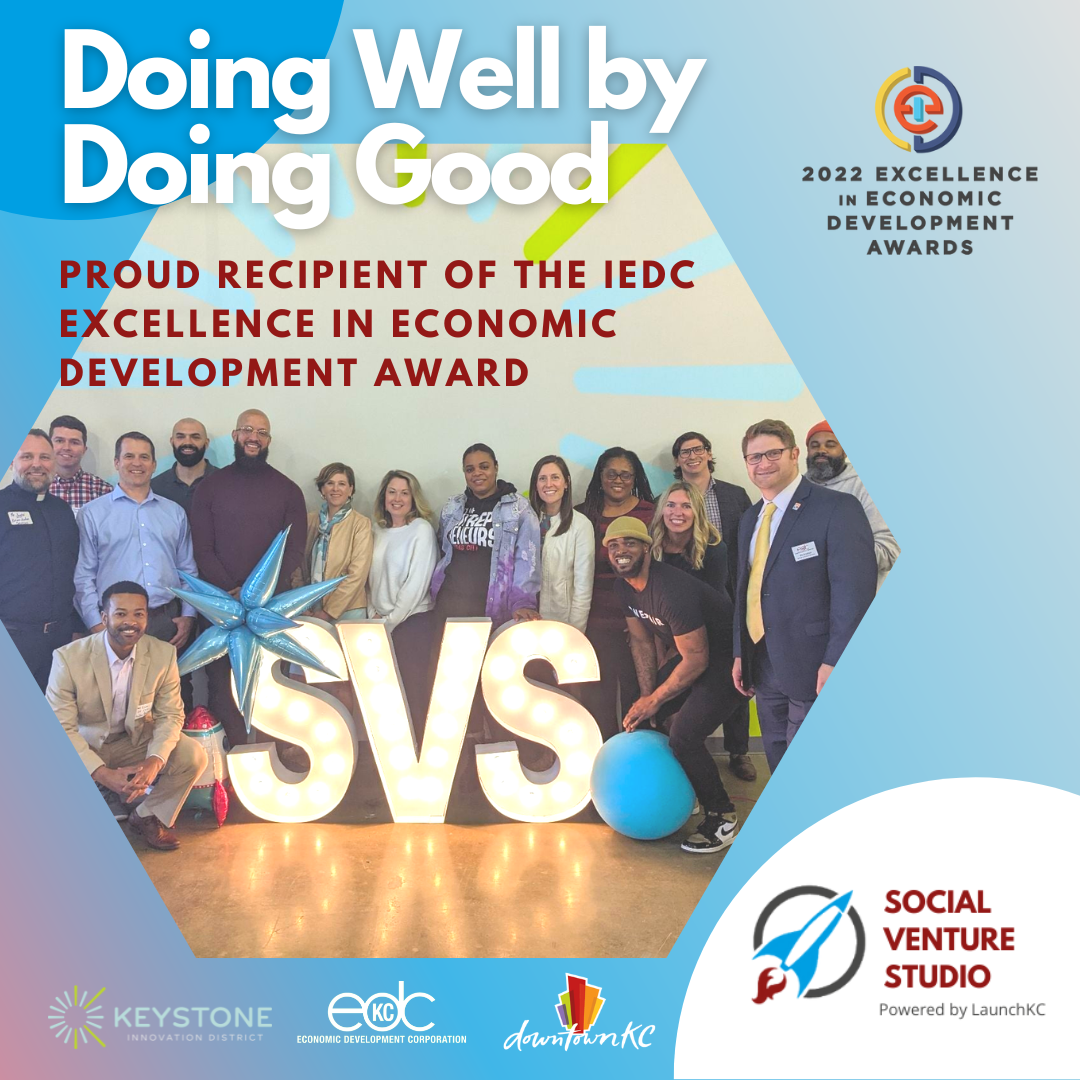 The International Economic Development Council (IEDC) has recognized the Social Venture Studio with its Excellence in Economic Development Award for its work in promoting economic equity and inclusion.
Social Venture Studio (SVS), powered by LaunchKC, is a one-of-a-kind six-month program for social entrepreneurs to grow their businesses and increase their community impact. SVS participants receive a financial award, business mentorship, and strategic consulting. The IEDC award recognizes programs dedicated to improving the quality of life within a community through focused, innovative, and inclusive initiatives that incorporate the unique experiences and knowledge of underserved members of the community.
"Social Venture Studio shows that Kansas City's entrepreneurial spirit can build successful businesses and also help address longstanding issues in our community," says Kansas City Mayor, Quinton Lucas. "It is a testament to what can be done when organizations like the City, EDC, Downtown Council, and Keystone Innovation District collaborate with emerging businesses to create opportunities for all members of our community."
A social venture is a business that prioritizes social good with business success. Kansas City has a rich fabric of social ventures, however, the founders often felt that they fell through the cracks — not purely for profit, nor purely philanthropic — when it came to business advice, networking and funding.
"When social entrepreneurs consider where they can locate, we want them to know that there are no other programs like ours at LaunchKC," said Tommy Wilson, program manager at the Downtown Council of Kansas City/LaunchKC. "We have an ecosystem of entrepreneurial support unlike anywhere else."
Social Venture Studio was selected for the award from a pool of over 500 applications from around the world. The IEDC Excellence in Economic Development Awards recognizes organizations and individuals for their efforts in creating positive change in their communities.
"Increasing access to capital, resources, and opportunities for BIPOC and female leaders is imperative to both solving social problems and having a robust business community," said Jacqueline Erickson Russell, Program Lead and Founder & CEO of Social Impact Advising Group. "Social Venture Studio is committed to promoting economic equity and inclusion in the Kansas City region."
The seven inaugural program cohort members will share their business pitches in a culmination event during Demo Day on Oct. 6 at the Keystone CoLAB (800 E. 18th St.).
"Kansas City is a city with a heart, and also a city with strong entrepreneurial minds. The Social Venture Studio demonstrates this, and allows us to show that we can tackle many societal issues with creative and sustainable business models that also drive job creation and investment for KC," said Jim Erickson, EDCKC, Director of Strategic Initiatives.
Applications for the second Social Venture Studio cohort will be accepted beginning early 2023.
"The award underscores the value of innovative approaches to promote economic equity and inclusion," said Kevin McGinnis, CEO, Keystone Community Corporation. "SVS's commitment to their goals only reinforces Keystone's commitment to the innovation community."
For more information about the Social Venture Studio, click here.
About Social Venture Studio
Kansas City Social Venture Studio, powered by LaunchKC, is an accelerator started by the Economic Development Corporation of Kansas City and Downtown Council of Kansas City, operated through Keystone Innovation District, and funded by The Sunderland Foundation. Social Venture Studio provides six months of custom-designed support for social entrepreneurs to grow their businesses and increase their community impact.
About the International Economic Development Council
The International Economic Development Council (IEDC) is the world's largest membership organization for economic developers, with over 5,000 members representing more than 2,500 communities and organizations in the United States and around the world. IEDC's mission is to help economic developers do their job more effectively and raise the profile of the profession. IEDC provides a forum for knowledge sharing, networking, and professional development opportunities for its members. For more information about IEDC, visit www.iedconline.org.
—
https://www.downtownkc.org/wp-content/uploads/2022/09/SVS-Social-Post.png
1080
1080
Tommy
https://www.downtownkc.org/wp-content/uploads/2017/05/DowntownKC_Logo_REVoutline.png
Tommy
2022-09-20 12:55:43
2022-09-22 10:28:42
International EDC honors LaunchKC's Social Venture Studio