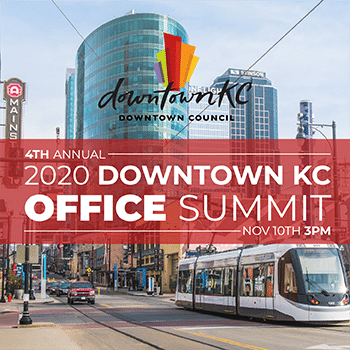 Downtown KC Office Summit on tap for Tuesday
All eyes will be on Downtown Kansas City as area business leaders gather on Tuesday to explore the future of commercial office space at the Downtown KC Office Summit.
Highlighting this year's program will be a briefing by Spencer Levy, the CBRE executive from Baltimore and icon of global commercial real estate, along with a panel discussion featuring four Downtown business leaders who are on the cutting edge of commercial office planning for today and tomorrow.
Mark your calendars for 3 p.m. Tuesday for the virtual, 4th annual Downtown KC Office Summit, presented by the Downtown Council of Kansas City (DTC). There is no charge for tickets, which are available via Eventbrite. A pre-Summit program will begin at 2:45.
+
Downtown Council participates in national COVID-19 survey
As COVID-19 continues to profoundly impact communities nationwide, the Downtown Council has joined ranks with a national research effort to explore the priorities, concerns, and behaviors of residents and business leaders.
As local governments, businesses and each of us move toward the winter season, the survey is seeking input in order to plan the next steps in response to the ongoing pandemic. Please take a few minutes to provide your opinions and share priorities on important issues that affect our health and our economy during these challenging times.
This research is sponsored by the International Downtown Association. Your answers will be confidential and will be reported only in aggregate along with all other responses. The DTC will have access to confidential summarized local responses, as well as national responses.
Follow this link to complete the survey this week. Contact Jared Campbell jared@downtownkc.org or Ann Holliday ann@downtownkc.org with any questions.
+
WWI Museum + Memorial readies Veterans Day salute
Make plans to join the National WWI Museum and Memorial in honoring veterans with special activities, free public ceremonies on the grounds and free general admission for veterans and active duty military to the Museum and Memorial, now through Sunday, Nov. 15. In addition, general admission is half price for the public for the Veterans Day observance on Wednesday.
On Veterans Day, Americans are encouraged to commit themselves to the cause of peace and to honor the Nation's veterans for their courage, honor, patriotism and sacrifice. The Museum and Memorial hosts commemoration events every November, highlighting the connections between Veterans Day and World War I.
=
https://www.downtownkc.org/wp-content/uploads/2020/11/Veterans-Day-350p.jpg
177
350
Mike Hurd
https://www.downtownkc.org/wp-content/uploads/2017/05/DowntownKC_Logo_REVoutline.png
Mike Hurd
2020-11-09 16:50:58
2020-11-09 16:54:58
Office Summit + COVID survey + Veterans Day salute