Podcast series to imagine the future of Downtown KC
A new podcast series invites listeners to set aside their daily stresses and strains in order to dream about tomorrow, right here in  Downtown Kansas City.
The 10-episode series is the product of the Downtown Council of Kansas City (DTC),  working in partnership with the City of Kansas City, Missouri and leading civic organizations, on a strategic planning process, Imagine Downtown KC.
"The process will establish a vision, strategy, and action steps to serve as a 10-year course toward shaping Downtown Kansas City into a stronger and more resilient community," said Bill Dietrich, president and CEO of the DTC.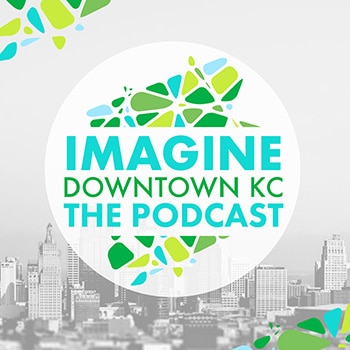 The podcast is designed to inspire listeners to dream about the possibilities… to imagine Downtown Kansas City 10+ years from now. Episodes will feature conversations with visionaries and unconventional voices who push the boundaries and share their BIG IDEAS for the future, including topics ranging from the arts to urban planning, economic inclusion, housing, mobility and more.
The series will be hosted by Kemet Coleman, Kansas City urbanist, musician and artist. Coleman has played on-stage and virtual roles in opening the DTC's Annual Luncheon each of the last four years.
"The Downtown Council's effort to strengthen the heartbeat of our city gives me hope that we can use this rare opportunity to redefine what Downtown is and what it can do for the spirit and soul of our people." Coleman said.
Imagine Downtown KC – The Podcast will make its debut on Thursday, Oct. 8. New episodes will be released on each of the following nine Mondays, beginning Monday, Oct. 12. Episodes will be accessible for listeners via the Imagine Downtown KC website.
The first episode will feature a conversation between Coleman and Dana Knapp, president & CEO of ArtsKC, and Michael Toombs, founder and director of The Storytellers Artist Collective – about the role of arts and creativity in the future of Downtown KC. Toombs was one of six featured artists who led the painting of six Black Lives Matter street murals in Kansas City on September 21.
The primary audience will be Kansas Citians – from all walks of life and each corner of the metropolitan region – who are passionate about Kansas City and what the future holds for communities in the urban core and adjacent neighborhoods. The podcast series is meant to pique the curiosity of those who live, work and play in Kansas City with visions of what could be.
"Imagine Downtown KC will serve as the primary vision-setting and policy blueprint to lead the recovery and ongoing revitalization of Downtown Kansas City," Dietrich said.
–
https://www.downtownkc.org/wp-content/uploads/2020/09/Kemet-Coleman-350p.jpg
233
350
Mike Hurd
https://www.downtownkc.org/wp-content/uploads/2017/05/DowntownKC_Logo_REVoutline.png
Mike Hurd
2020-09-30 16:27:19
2020-09-30 17:12:40
Podcast series to imagine the future of Downtown KC