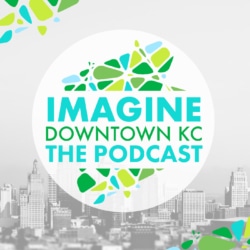 The Downtown Council of Kansas City (DTC) is launching a podcast! Listen in as host Kemet Coleman talks with guests who offer unique perspectives about the future of Downtown KC. The Imagine Downtown KC podcast is a deeper conversation with visionaries to imagine Downtown 10 years from now to complement the strategic planning process.
Episodes will cover a spectrum of topics from the arts community, urban planning, economic inclusion, mobility and beyond. Our hope is that each episode will enlighten and inspire listeners to dream BIG about the possibilities for the future of Downtown.
You don't want to miss tuning in to our podcast host Kemet Coleman! As one of the most heralded musicians, producers and urbanists from Kansas City, Kemet's passion for the city combined with his fresh energy is sure to provoke thoughtful conversation. From writing/producing the award-winning song, Get Out (The Streetcar Song), to being lead vocalist of the psychedelic soul collective The Phantastics, to brokering collaborations with household names such as Tech N9ne, Janelle Monae, and Kool and The Gang – his talents and success reach far and wide.
Get your podcast player and your headphones ready! The first Imagine Downtown KC episode is set to launch on Thursday, October 8. Keep an eye on your email for more information about the first episode.
PS: To learn more about the Imagine Downtown KC Strategic Plan, check out the project webpage: imaginedowntownkc.org.
https://www.downtownkc.org/wp-content/uploads/2020/09/Imagine-podcast-cover-image1.jpg
1400
1400
Ann
https://www.downtownkc.org/wp-content/uploads/2017/05/DowntownKC_Logo_REVoutline.png
Ann
2020-09-30 11:50:59
2020-09-30 14:57:52
Imagine Downtown KC – The Podcast set to launch October 8!