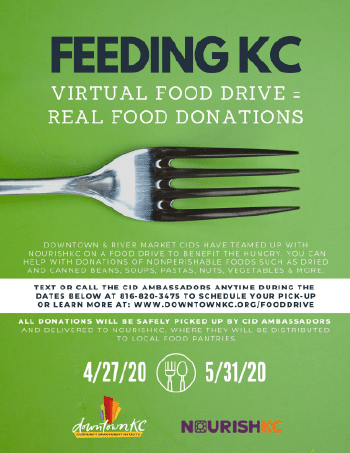 Call or text 816-820-3475 to donate food to KC food pantries
–
Downtown Dish – redux, episode 2: Crown Center reopens, Pirate's Bone, outdoor seating at Ambassador
By Katy Schamberger, host
The Downtown Dish regrets the offensive content that appeared during today's episode, May 22, 2020, due to Zoom bombing. Though the event was password protected, hackers were able to disrupt our episode. We are taking steps to heighten security and put protocols in place to safeguard against this in the future. Thank you for your continued support.
–
Let's dive into all of the great dining, retail and event information shared throughout today's show, including Crown Center's reopening;  carryout service now available at Pirate's Bone Burgers; and the Ambassador Hotel's creative new outdoor seating concept — perfect timing given that the Kansas City City Council gave the green light to temporary permitting that makes it easier for Downtown restaurants and retailers to expand their outdoor space on sidewalks and in parking areas. 
Thanks so much to our guests – Anne Deuschle, Integrated Marketing Manager, Crown Center; Zaid Consuegra Sauza, Head Chef, Pirate's Bone Burgers; and Eric Willey, Director of Food & Beverage, Ambassador Hotel – for sharing so many scoops! Let's get some details: 
What we're eating: Many Crown Center restaurants have reopened! Enjoy barbecue from Burnt-End BBQ; pizza and salads from SPIN!; and tacos and frozen custard at Unforked to name a few. A new Starbucks opens in Crown Center on June 1. And they're adding new curbside pick-up spots in the slip lanes out front to make it easier for you to pick up food and retail purchases. 
Chef Consuegra Sauza has one goal: to feed more plants to more people! Memorial Day weekend marks Pirate's Bone Burgers' first full weekend of service since stay-at-home orders began. They're featuring a condensed menu with one burger, fries and drinks each week. The burgers are all plant-based, and Zaid says even the staunchest meat-lover will enjoy this week's "I Can't Believe It's Not Beef" burger, served with a side of queso. Follow Pirate's Bone, 2000 Main St., on Facebook and Instagram for menu updates. And you can order online, by phone or walk-up. 
What we're doing: Be among the first to enjoy the Ambassador Hotel's creative new outdoor seating area! They set up tables and a couple of couches in the parking garage just outside their door, so you can enjoy an open-air experience without worrying about the weather! The Reserve's food and drink menus are available both outside and in the restaurant. Use OpenTable to secure your spot, including for this Sunday's Memorial Day barbecue from 2-6 p.m. Enjoy food, drink and live music, all benefitting Warhorses for Veterans. 
What we're buying: Many retailers, including Function Junction, Amy's Hallmark, Halls and more are open at Crown Center! Merchants have the flexibility to adjust their hours, so check the Crown Center website for all of the latest information. 
What we're drinking: KC Wineworks has a hit on their hands: frozen wine slushies! These delicious refreshers are available for pre-order and pick-up on Fridays (3:30-6:30p) and Saturdays (12:30-6:30p) until sell-out. Place your order at KCWineworks.com. Oh, and P.S. — the packages, which will remind you of Capri Sun pouches, are reusable and recyclable! 
What we're watching: Set up a living room picnic and enjoy a virtual Celebration at the Station! The KC Symphony is compiling a best-of show that will air on KCPT at 7p on Sunday, May 24, and 8:30p. on Monday, May 25.
The National WWI Memorial + Museum will host several virtual events in recognition of Memorial Day, including:
Memorial Day Ceremony, 10a, Monday, May 25

Memorial Day Bell Tolling Ceremony, Noon

Wall of Honor Dedication Ceremony, 2p
You can also visit the museum grounds to see the Flags of Forgotten Soldiers display, which calls to attention the devastating fact that 140 veterans are lost to suicide each week. Visit the museum's website for the full Memorial Day line-up.
This week, we are including exclusive show slides from today's Downtown Dish:
We'll be back next Friday with another episode of the Downtown Dish! We're in the midst of changing our show protocols to offer a more secure and enjoyable experience. Follow the Downtown Dish event on Facebook for up-to-date information about how to join us next Friday, May 29. If you have any Downtown KC-related questions or feedback for future episodes, please share on social media with hashtag #DowntownDishKC. Happy eating! 
Katy Schamberger, host of the Downtown Dish, had a front-row seat to Downtown Kansas City's revitalization while writing for the Kansas City Star. Now, 15 years later, she's built a successful career writing about Kansas City for local and national outlets, including a published travel guide, Moon Kansas City. From social media takeovers to feature stories, Katy looks for any resource to tell the captivating stories that truly make Downtown the heart of Kansas City. Connect with Katy online at @katywrites.
https://www.downtownkc.org/wp-content/uploads/2020/05/Dish-round-350p.png
350
350
Mike Hurd
https://www.downtownkc.org/wp-content/uploads/2017/05/DowntownKC_Logo_REVoutline.png
Mike Hurd
2020-05-22 17:01:02
2020-05-22 17:10:28
Morning Scoop 5.22 – Downtown Dish, redux e.2 + Feeding KC