Morning Scoop 5.21 – Michael's Clothing, Downtown is OPEN
From Spanish Flu to COVID-19, Michael's marches on 
It's fairly safe to say, Michael's Fine Clothes for Men is the only Downtown retailer to have survived two pandemics, the Spanish Flu outbreak of 1918 and the current coronavirus crisis, according to CitySceneKC.
"My grandfather went through it and I guarantee you, he didn't close," said Keith Novorr, the third generation of his family to run the 115 year-old clothing store at 1830 Main St.
As opposed to his grandfather, Michael H. Novorr, his grandson did follow the city's health guidelines for this pandemic and shut down his store on March 28. But last Friday, Michael's was back in business, following the measured rules for reopening laid out by Mayor Quinton Lucas.
"I happen to like what he's done," Novorr said of the mayor. "He's caught between a rock and a hard place. We certainly don't want to take two or three steps forward and then 10 backward."
The COVID-19 shutdown adds another chapter to a Downtown retailer that's arguably its greatest survivor. In addition to Spanish Flu, Michael's has made it through two World Wars, the Great Depression, the utter collapse of Downtown retail that began in the 1960s and then two years of streetcar construction at its front door.
"When I started in June 1978, everything was vacant," Novorr recalled. "It was awful."
And, it wasn't easy either the past month or so. During the seven-week shutdown prompted by COVID-19, the bills kept coming and Novorr scrambled to negotiate with his suppliers.
"It was stressful, we still had merchandise coming in and I had to make calls to cancel things although we still needed merchandise to reopen," he said.  "All our manufacturers were very cordial saying we're all in this together."
Buoyed by loyal customers, some of whom bought promotional gift certificates during the shutdown, and Paycheck Protection Program federal aid, Michael's was ready for business to resume.
To read the complete story, check out CitySceneKC.
—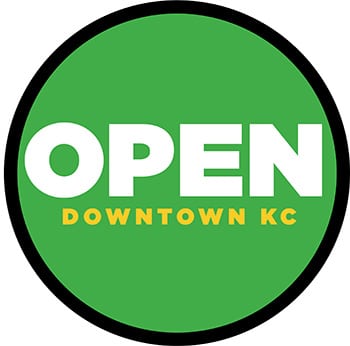 Downtown KC is OPEN for business
The Downtown Council has introduced the OPEN campaign to draw attention and customers to Downtown restaurants and retailers who are serving the community through delivery, limited dine-in, curbside, takeout, in-store and online shopping.
Check out our current list of OPEN restaurants and retailers here – https://www.downtownkc.org/open/
In addition, the DTC is providing free 11″ x 17″ OPEN posters to Downtown restaurants and retailers. To request a sign or be placed on the online OPEN list, contact Tommy Wilson at tommy@downtownkc.org.
We ask for you to support these business – including coffee bar Espresso Ah La Cart, is open from 6-10 a.m. weekends in the Commerce Arcade, 1000 Walnut – during this challenging time, as they continue to work to find creative and safe ways to serve our community. 
OPEN campaign impact to date –
Most viewed webpage on the DTC website over the past 2.5 weeks – even outpacing the homepage

Average time spent on the page is 4:24 minutes – more than doubling every other page on the website site – meaning people are lingering, and checking out who's open, and looking at what services they are offering right now

Social media Impressions – 29,514

Clicks to the OPEN webpage through our social media posts – 320
—
Comeback KC campaign focuses on life after quarantine
A new public service campaign – Comeback KC  – is working to raise the bar on informing Kansas Citians about COVID-19.
The brainchild of Kansas City area business, nonprofit and public health leaders, Comeback KC is encouraging people to wear masks, and to engage in testing, contact tracing and other COVID-19 precautions in order to reopen the economy the right way – safely and responsibly.
"We believe that testing and contact tracing need to be as ambitious and widespread as stay-at-home orders have been, and that's why we're launching Comeback KC – because we want people to know how to return safely," said Dr. Allen Greiner, a physician and population health expert at The University of Kansas Health System, who is an advisor to Comeback KC.
Comeback KC is the product of C19KC. Founded by four local CEOs and including organizations such as Blue KC and MARC, C19KC convened two months ago to build a coalition of community stakeholders to help fill the federal, state and local gap in testing and other coronavirus response measures.
To learn more, visit Comeback KC.
—
https://www.downtownkc.org/wp-content/uploads/2020/05/Open-350p.jpg
346
350
Mike Hurd
https://www.downtownkc.org/wp-content/uploads/2017/05/DowntownKC_Logo_REVoutline.png
Mike Hurd
2020-05-20 11:21:06
2020-05-20 11:21:06
Morning Scoop 5.21 – Michael's Clothing, Downtown is OPEN