Morning Scoop – Curbside Carryout BINGO @ Boulevard; Thank you to CIDs
from … The Morning Scoop – Downtown Council of KCMO, April 29, 2020
Curbside Carryout BINGO @ Boulevard
Boulevard Brewing Company has introduced a creative and tasty way to support local restaurants.
Here's how to play:
Go online to Curbside Carryout Bingo and select one of seven different neighborhood BINGO cards.
Each card – including one for Downtown and Westport – features 24 restaurants and a FREE space on it.
With your neighborhood card in hand, order carryout or delivery from  eateries on your card. Once you mark off 5 in a row, vertical, horizontal or diagonal, you'll score a BINGO!
Follow this link to enter and claim your prize – including a "quarantine collectors' edition" koolie and a $10 promo code to redeem on the Boulevard online store.
Cheers to Boulevard Brewery! We'll drink to you, as we support our local restaurants.
—
Thank you, CID Ambassadors!
Downtown Council board members and CID leaders  treated Community Improvement District Ambassadors to "thank you" lunches last week.
The meals were designed to honor the Ambassadors for working on the front lines and keeping Downtown clean and safe during the stay-at-home order.
"Our guys give Downtown residents a bit of normalcy during the pandemic and our residents can use a little bit of normalcy right now," said Santos Ramirez, CID operations director. "And, the lunches gave us the chance to support Downtown restaurants."
The CID Ambassadors are part of the city's "essential" workforce, and have been on the front lines,  since Mayor's order went into effect on March 24.
The Ambassadors are working to keep the Central Business District and River Market clean, safe and secure – including regular disinfection spray-downs of Ride KC and KC Streetcar stops, and exterior maintenance of 20+ portable restrooms.
In additiion, the CID Ambassadors teamed up with NourishKC this week to launch a five-week food drive – FEEDING KC – that benefits local food pantries. Click here to help. You can learn more about donating non perishable foods to help feed the hungry.
The CID lunches last week were provided by DTC and CID leaders. Special thanks to board chair Julie Pierce, and fellow board members Lynn Carlton, Evie Craig and Richard Wetzel for the meal on Friday.
Thursday's meal came from Jason's Deli, 1100 Main, and was enjoyed at Oppenstein Park. Friday's lunch came from Planet Sub, 1111 Main.
—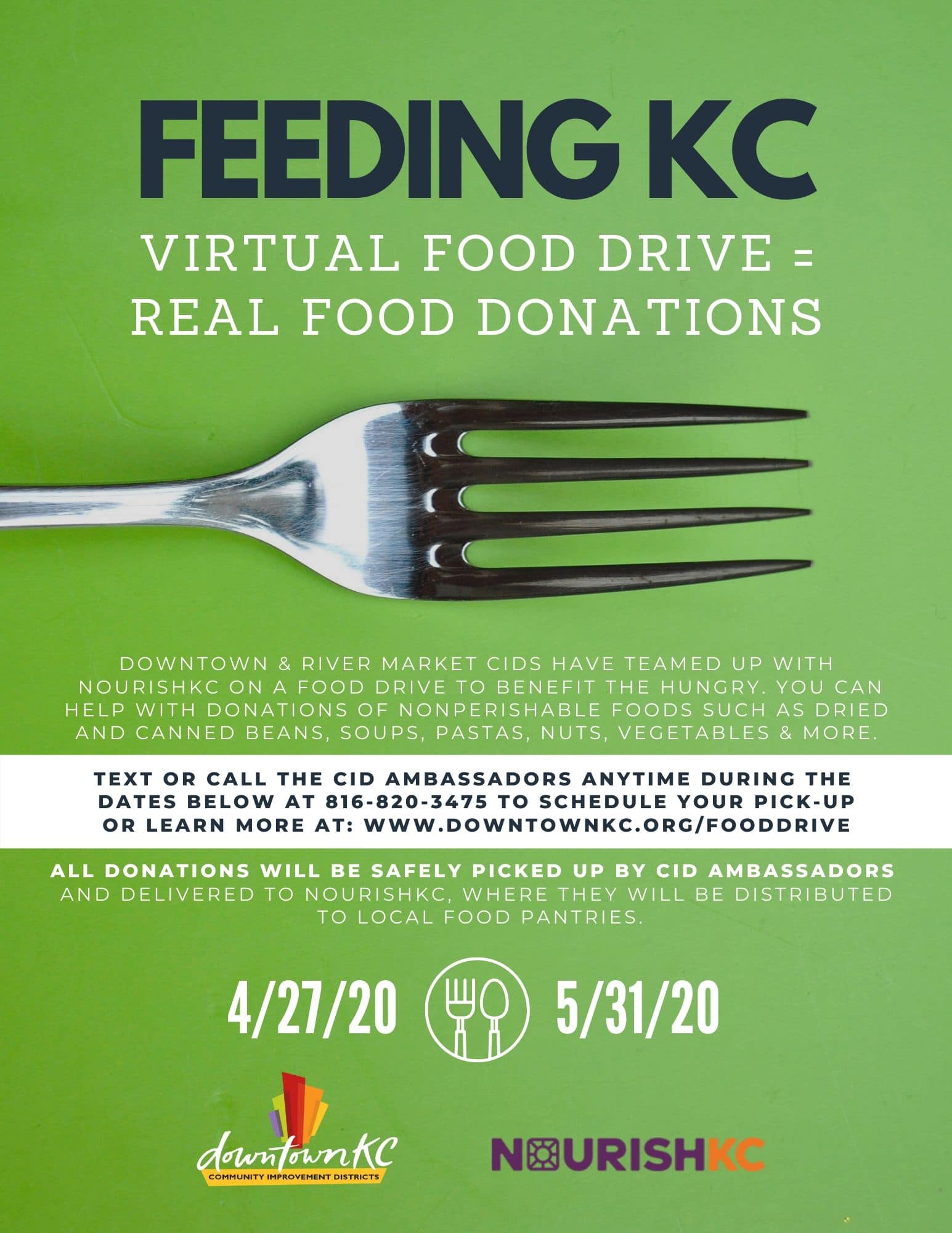 https://www.downtownkc.org/wp-content/uploads/2020/04/CID-Community-Food-Drive-final.jpg
2000
1545
Mike Hurd
https://www.downtownkc.org/wp-content/uploads/2017/05/DowntownKC_Logo_REVoutline.png
Mike Hurd
2020-05-06 07:14:57
2020-05-07 12:36:21
Morning Scoop – Curbside Carryout BINGO @ Boulevard; Thank you to CIDs