Roll the highlight reel for a holiday-infused week of arts, entertainment and seasonal cheer(s) in Downtown Kansas City – today to Sunday, Nov. 25-Dec. 1:
City Market, 20 E. 5th St. This week, the Merry Market will celebrate the coming holiday season with its annual focus on Gifts, Giving and Good Cheer. Make plans now for great shopping, food, drink and festive fun for the whole family on Friday and Saturday.
Crown Center, 2405 Grand. This week, the holiday season officially begins with the Mayor's Christmas Tree Lighting Ceremony at 5:30 p.m. Friday. The 100-foot-tall Mayor's Christmas Tree, one of the nation's tallest, is the centerpiece for an illuminating holiday celebration. Kansas City's Mayor Quinton Lucas and special guest will flip the switch to light the tree. The tree is a symbol of the Mayor's Christmas Tree Fund, which is dedicated to assisting the city's less fortunate. And, the lighting ceremony is the crowning touch to a day filled with holiday cheer, including:
Santa's Arrival – Santa Claus arrives in a horse-drawn carriage at 10 a.m. Friday to kick off the holiday season. Join Santa as he makes his way to Santa's Gingerbread Station, where he resides through Christmas Eve.
EBT Santa's Countdown to Christmas – Don't miss one of Kansas City's favorite pieces of Christmas nostalgia. EBT Laughing Santa, who first appeared at KC's Emery, Bird, Thayer department store in the early 1900s, has been providing memories for new generations at Crown Center since 1979. the Jolly Ol' Soul will be on display through Dec. 31.
Santa's Gingerbread Station – Kids and families can explore this interactive exhibit (through Dec. 31), meet and have their photo taken with Santa Claus (through Dec. 24), climb aboard the Crown Center Express Train Engine, and enjoy Gingerbread Village No admission fee.
And, the ever-popular Ice Terrace – Kansas City's public outdoor ice skating mecca – is open daily through March 8 (except for Christmas Day). Visit the Crown Center Ice Terrace for the complete schedule and more details.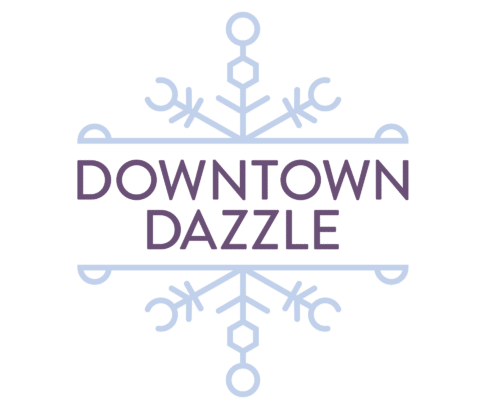 Downtown Dazzle – Explore Downtown Kansas City and celebrate the season with holiday lights, special experiences, and dining and shopping exclusives now through Dec. 30. For a listing of the many seasonal events in Downtown, visit DowntownDazzle.com. For this week, see Crown Center (above) for details on Santa's arrival and the traditional Mayor's Christmas Tree Lighting on Friday!
As an added bonus to the holiday magic in Downtown this year, The Rockhill Grille, 2020 Grand Blvd., will bring back Miracle at Rockhill, its Christmas Pop-Up Bar, on Friday, and  continuing through Dec. 28.
Folly Theater, 300 W. 12th St. This week, Potted Potter – the hilarious Harry Potter parody  – is coming to Downtown for 8 eight performances from Friday to Sunday. For tickets and more information, visit the Folly.
KC Public Library, 14 W. 10th St. – Coming, the Downtown Central Library will feature a program on How Can KC Become America's Most Entrepreneurial City? on Tuesday, Dec. 3. In places like Silicon Valley and Boulder, Colorado, being innovative and entrepreneurial is a part of regional identity. Kansas City has its own burgeoning entrepreneurial environment; what will it take for the city to build its own reputation and culture?
Kauffman Center for the Performing Arts, 1601 Broadway. This week, the dazzling center will present five lush performances, including:
Yes You Are with opener Olivia Fox will light up Downtown at 7 p.m. Monday in Helzberg Hall. KC's Yes You Are achieved widespread notoriety early this year, its first single debuted on Pepsi's Super Bowl LI commercial and has played all over the world. This event is a free concert and holiday reception for Kauffman Center members. Spotlight, the Kauffman Center's individual membership program, features two free concerts annually and other exclusive benefits. Not a member? Visit kauffmancenter.org/spotlight  and reserve your free tickets when you join.
Mary Poppins in Concert – The Kansas City Symphony presents a special screening of the beloved film and live orchestra in four performances this week beginning at 7:30 p.m. Wednesday in Helzberg Hall. Winner of five Academy Awards® (including Best Original Music Score) and starring the incomparable Julie Andrews and Dick Van Dyke, don't miss the Symphony performing the charming live soundtrack with the entire film on Thanksgiving weekend.
Knuckleheads, 2715 Rochester. This week, KC's favorite honky tonk will be rockin' the East Bottoms with 11 live shows, including the Danielle Nicole Band at 8 p.m. Wednesday; The Bel-Airs at 8:30 p.m. Friday and Saturday; and 4 Fried Chickens & A Coke at 8:30 p.m. Saturday.
The Midland, 1228 Main St. This week, featuring three electic and electrifying performances, including TDE Presents Schoolboy Q with special guest A 'Sean at 8 p.m. Monday; Q104 Jingle Bell Bash featuring Michael Ray and Carly Pearce with Hudson Drive beginning at 7 p.m. Saturday; and The Night the Buzz Stole Xmas with K Flay, Meg Myers, Hembree and Mess beginning at 7 p.m. Sunday.
National WWI Museum and Memorial, 2 Memorial Dr. This week, featuring a special exhibition on The Vietnam War. More than 40 years after its conclusion, the War remains one of the most controversial events of the 20th century. How did the conflict begin? Why did it begin? What are the connections between the war and its confounding cousin, World War I? This exhibition explores themes of patriotism, duty and citizenship through a remarkable collection of objects from the New‑York Historical Society.
Power & Light District, 50 E. 13th St. This week, featuring the 'Elf' Movie Party at 4 p.m. Saturday and Sunday at the Alamo Drafthouse Cinema. The party features all sorts of fun props, a themed contest before the film, and a "real" snowball fight in the theater!
Sprint Center, 1407 Grand. This week, the arena will be pounding with excitement from two, very different sources:
Hall of Fame Classic will tip off at 6 p.m. on Monday and Tuesday. The Big 12's Oklahoma Sooners, along with Butler, Stanford and the Missouri Tigers are set to face off this week in the championship rounds of the 2019 National Collegiate Basketball Hall of Fame Classic weekend.
Jurassic World comes to life for the first time in a touring arena show that will upend the Big Town over seven performances – including two on Friday, three on Saturday and two on Sunday – this weekend.
The Truman, 601 E. Truman Rd. This week, presenting Kim Petras, whose voice and artistry have skyrocketed her to international recognition as one of music's most promising talents. She will light up The Truman at 8 p.m. Sunday with special guest Alex Chapman.
Union Station, 30 W. Pershing Rd. This week, experiencing a warm and welcoming glow through two, major attractions:
Holidays Come Alive – Stay warm and cozy inside KC's favorite indoor holiday destination, enjoying a variety of unique sights, sounds and experiences this holiday season, including the Largest Indoor Holiday Tree, Holiday Plays & Performances,  Breathtaking Decorations & Family Photo Ops, Kansas City Southern Holiday Express (Dec. 18-22), Holiday Movies & Planetarium Show (click here for tickets), Mini Train Rides (thru Dec. 29), Exhibitions, Holiday Science In Science City, and Holiday Displays & Activities for the entire family!
Genghis Khan – Bringing the Legend to Life – Discover how legends are made in this world-class exhibition that explores the culture, conquests and heritage of the world's greatest conqueror . . . the man Time Magazine and The Washington Post named "The Most Important Person of the Last Millennium." Journey back 800 years, to experience the treasures and stories of Genghis Khan's 13th-century Mongol Empire, the exhibition is showing seven days a week. Click here to learn more.
LIVE THEATER – This week, a peek behind the curtain reveals six productions – including four holiday favorites –  happening this week:
LIVE MUSIC is on tap most nights at these Downtown clubs and joints: Blue Room Jazz Club, Black Dolphin, The Brick, Gem Theater,  Green Lady Lounge, Hush, The Majestic Jazz Club, Mutual Musicians Foundation, The Phoenix, Prohibition Hall , throughout the Power & Light District, The Record Bar and The Ship.
AND, UNIQUE TREASURES are plentiful via Downtown museums and attractions, including the Airline History Museum, Downtown Airport; American Jazz Museum, 18th & Vine; Arabia Steamboat Museum, River Market; Black Archives of Mid-America, 18th & Vine; Todd Bolender Center for Dance and Creativity, Union Station District; Boulevard Beer Hall, Westside; City Market, River Market; College Basketball Experience, Sprint Center; Garment District Museum, Garment District; Kansas City Public Library, Central Business District; Hallmark Visitors Center, Crown Center; Hy-Vee Arena, West Bottoms; Kansas City Museum, Corinthian Hall; Money Museum, Federal Reserve Bank of KC; National Archives, Union Station District; National WWI Museum and Memorial, Liberty Memorial; Legoland Discovery Center, Crown Center; Negro Leagues Baseball Museum, 18th & Vine; Riverfront Heritage Trail, River Market area; Science City, Union Station; Sea Life Aquarium, Crown Center; 21c Museum Hotel, Historic 9th District; TWA Museum, Downtown Airport; and Union Station, Union Station.
For more of what's happening in Downtown and Kansas City, check out ArtsKCGo and VisitKC.com
https://www.downtownkc.org/wp-content/uploads/2017/05/DowntownKC_Logo_REVoutline.png
0
0
Mike Hurd
https://www.downtownkc.org/wp-content/uploads/2017/05/DowntownKC_Logo_REVoutline.png
Mike Hurd
2019-11-24 06:57:12
2019-11-24 06:57:12
Downtown is simply dazzling for the holiday week ahead