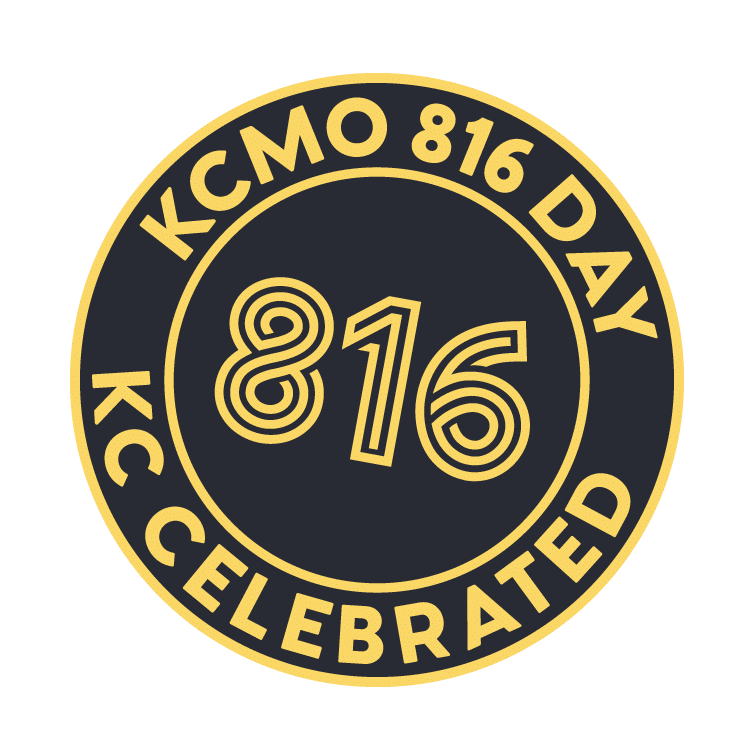 This week will feature a feast of Arts & Entertainment activities in greater Downtown, including a smorgasbord of tasty delights on Friday, 8/16… 816 DAY. Roll the highlight reel for what's coming to Downtown KC from Monday to Sunday, Aug. 12-18:
816 DAY – named after our local area code – is a day-long celebration of all things Kansas City this Friday, yes, 8/16. It is a simple, fun way to celebrate the KC spirit and the renaissance of Downtown. From the River Market to the Power & Light District, Union Station and throughout Downtown KC – from breakfast through happy hour to the evening – Downtown merchants have created a variety of food and retail specials to celebrate the day. Riding the KC Streetcar is a great way to visit most of the shops and restaurants. Visit the Downtown Neighborhood Association for a complete listing of specials and offers – including the featured Kemet the Phantom performance at City Market – all at www.dnakcmo.org/816-day or visit www.facebook.com/816day.
Crossroads KC, 417 E. 18th St. This week, firing up the outdoor summer scene with three hot concerts, including Gary Clark Jr. with Greyhounds at 8 p.m. Tuesday; Minnesota will headline a gig featuring My Brothers & Sisters, Prismada & more beginning at 7:30 p.m. Friday; and Stephen Marley with guests Jo Mersa Marley and DJ Stacia Payne that gets underway at 8 p.m. Saturday.
Crown Center, 2405 Grand – This week, Kansas City Taste – a food and music festival – will feature more than 30 restaurants, wineries and distilleries showing off their most creative dishes and drinks, as well as live music – with Cherry Bomb – and cooking demonstrations. Festivities will run from noon to 10 p.m. Saturday in Crown Center Square.
Folly Theater, 300 W. 12th St. Next up – Katya – Help Me I'm Dying – As RuPaul's Drag Race Miss Congeniality and All-Stars S2 finalist, Katya Zamolodchikova brings her new stand-up show to Downtown on Monday, Aug. 26.
KC Public Library, 14 W. 10th St. This week, the Central Library will revel in Mars Attacks in the Off-the-Wall Film Series at 8 p.m. Friday; will Rediscover Kansas City's Pioneering Mothers in a talk by author Cynthia Prescott, a University of North Dakota historian, at 2 p.m. Sunday; and bask in the artwork of Ralph Steadman, an exhibition that continues through Sept. 8.
Kauffman Center for the Performing Arts, 1601 Broadway. Next up – Iyanla Vanzant, the celebrated spiritual teacher, New York Times best-selling author, legendary speaker and Emmy Award-winning television personality celebrates the 25th anniversary edition of her internationally-acclaimed bestseller, Acts of Faith, at 8 p.m. Friday, Aug. 23.
Knucklehead's , 2715 Rochester. This week, the hottest honky tonk in KC will be blazing with 7 shows this week, including John Hiatt performing solo/acoustic The Eclipse Sessions with special guest Logan Ledder at 8:30 p.m. Friday.
The Midland, 1228 Main – This week, the legendary Vince Gill – the 18-time Grammy winner and member of the Grand Ole Opry – will rock the house at 7:30 p.m. Thursday.
Power & Light District – This week, the KC Live! Block will be swayin' to Hot Country Nights featuring Aaron Watson at 6 p.m. Thursday; Galantis at the Coors Light Block Party at 6 p.m. Friday; at Big Sky Nights with Country Road 5 at 7 p.m. Friday; and the R&B/Jazz sounds of District Rhythms featuring Lee Langston & Prototype, Blair Bryant, Charlotte Fletcher & Soigne' at 6 p.m. Sunday.
Sprint Center, 1407 Grand. Up next, Banda MS – the award-winning Mexican group from Mazatlan is set to perform at 8 p.m. Friday, Aug. 23.
The Truman, 801 E. Truman Rd. – This week, Buckcherry will rock this city with special guest Joyous Wolf at 8 p.m. Thursday.
Union Station – 30 W. Pershing Rd. This week, Stonehenge lecture – Direct from the award-winning Wiltshire Museum in Devizes, England, renowned British archeologist David Dawson will make a rare North American appearance and deliver a fascinating morning lecture Friday, 816 DAY only at Union Station Kansas City in conjunction with the current Stonehenge exhibition. Guests will be invited to travel back in time – more than 5,000 years –  and discover remarkable stories of the prehistoric people who lived, worked and were buried in the landscape around Stonehenge.  As well, Dawson will present the latest science that's unraveled ancient mysteries of this enigmatic World Heritage Site. This one-hour presentation begins promptly at 10 a.m. Friday in Union Station's spacious Regnier Extreme Screen Theatre and is free with the purchase of a full-priced exhibition ticket to Stonehenge: Ancient Mysteries & Modern Discoveries.  
LIVE THEATER is thriving on Downtown stages, including three productions this week:
A Doll's House – A scandal when it was first staged 140 years ago, it is the story of a married woman seeking to carve out her own place in the world. Still startlingly relevant, this show will be sure to feature the type of actor-first performances audiences have come to expect from the Kansas City Actors Theater. Performances run  through Aug. 25 at the City Stage in Union Station.
Empty – S.B.G Production Company presents the story of Melinda, who has found herself in a marriage filled with heartache and pain. Empty will be performed at 7 p.m. Friday and Saturday at Just Off Broadway Theatre.
In the Heights – tells the universal story of a community on the brink of change, full of hopes, dreams and pressures, where the biggest struggles can be deciding which traditions you take with you, and which ones you leave behind. Creator Lin-Manuel Miranda's production was winner of the 2008 Tony Awards for Best Musical, Best Score, Best Choreography and Best Orchestrations.  Performances continue through Sept. 1 at MTH Theater in Crown Center.
LIVE MUSIC is on tap most nights at these Downtown clubs and joints: Blue Room Jazz Club, Black Dolphin, The Brick, Gem Theater,  Green Lady Lounge, Hush, The Majestic Jazz Club, Mutual Musicians Foundation, The Phoenix, Prohibition Hall , throughout the Power & Light District, The Record Bar and The Ship.
AND, UNIQUE TREASURES are plentiful via Downtown museums and attractions, including the Airline History Museum, Downtown Airport; American Jazz Museum, 18th & Vine; Arabia Steamboat Museum, River Market; Black Archives of Mid-America, 18th & Vine; Todd Bolender Center for Dance and Creativity, Union Station District; Boulevard Beer Hall, Westside; City Market, River Market; College Basketball Experience, Sprint Center; Garment District Museum, Garment District; Kansas City Public Library, Central Business District; Hallmark Visitors Center, Crown Center; Hy-Vee Arena, West Bottoms; Kansas City Museum, Corinthian Hall; Money Museum, Federal Reserve Bank of KC; National Archives, Union Station District; National WWI Museum and Memorial, Liberty Memorial; Legoland Discovery Center, Crown Center; Negro Leagues Baseball Museum, 18th & Vine; Riverfront Heritage Trail, River Market area; Science City, Union Station; Sea Life Aquarium, Crown Center; 21c Museum Hotel, Historic 9th District; TWA Museum, Downtown Airport; and Union Station, Union Station.
For more of what's happening in Downtown and Kansas City, check out ArtsKCGo and VisitKC.com
https://www.downtownkc.org/wp-content/uploads/2019/05/Stonehenge.jpg
375
580
Mike
https://www.downtownkc.org/wp-content/uploads/2017/05/DowntownKC_Logo_REVoutline.png
Mike
2019-08-11 08:54:14
2019-08-11 13:09:29
Downtown to celebrate 816 DAY with food, drink & Kemet the Phantom