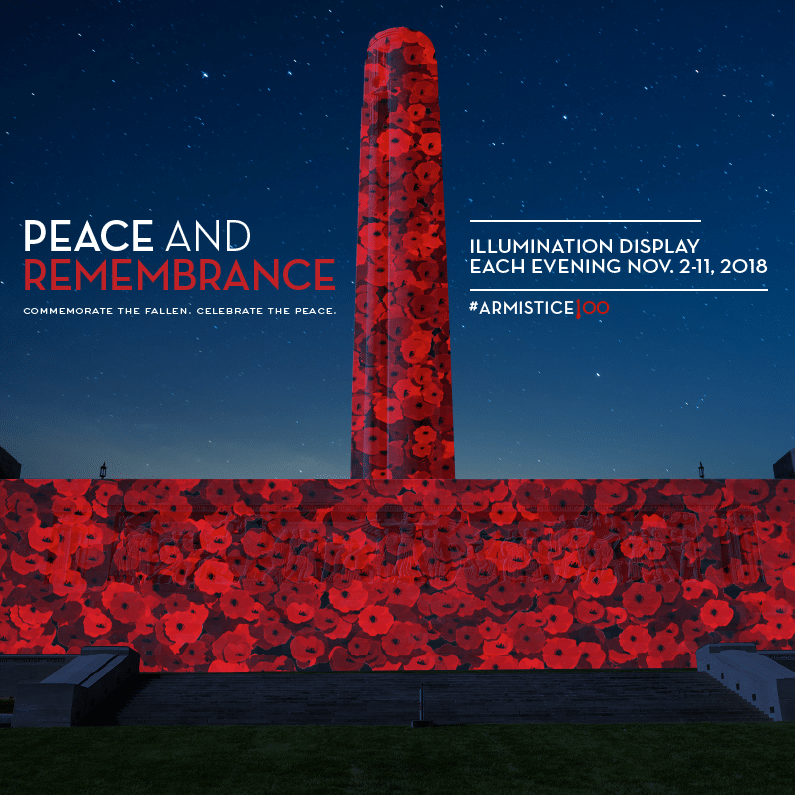 From Peace and Remembrance at the National WWI Memorial to Madama Butterfly at the Kauffman Center; and from Wynonna at Helzberg Hall to Carol Burnett at the Midland, this promises to be a breathtaking week in Downtown Kansas City. Roll the highlight reel for the week in arts, culture and entertainment – Monday to Sunday, Nov. 5-11:
Armistice Commemoration – To commemorate the end of World War I, President Woodrow Wilson officially recognized Nov. 11 as Armistice Day – a day of somber remembrance recognized around the world, with many stopping for a moment of silence at the 11th hour of this day to honor those who brought about the end of the "Great War." The National WWI Museum and Memorial will capture the world's attention with activities for all ages leading up to the centennial of the World War I Armistice this Sunday. Visit TheWorldWar.org for complete details.
City Market – Join us for the 3rd annual Socks and Hops, a night of craft beer and chef-prepared small bites benefiting the City Market's Healthcare for the Homeless Program and Mobile Medical Unit from 7-10 p.m. Saturday. Enjoy beer from local craft brewers paired with some of the best chefs in KC for a one-of-a-kind evening full of tastes, sips, and community.
Crown Center Ice Terrace – Kansas City's only public outdoor ice skating rink – is open daily for its 46th season of great skating fun. The Ice Terrace is open from 10 a.m.-9 p.m. Sundays through Thursdays, and 10 a.m.-11 p.m. on Fridays and Saturdays during November through January. And, the Ice Terrace will remain open until March 10.
Dinosaurs Revealed – Travel back 252 million years to discover dinosaurs that inhabited what is now North America. Your hands-on trek will bring you face-to-face with 26 life-size dinosaurs. The world premiere of Dinosaurs Revealed is on exhibit through Jan. 6 at Union Station.
Folly Theater will feature two performances of Alice in Wonderland by the Heart of America Youth Ballet at 7:30 p.m. Friday and Saturday.
Kauffman Center for the Performing Arts will feature seven performances this week, including:
Orpheus Chamber Orchestra – a Grammy-winner, classical music chamber orchestra based in New York City –  is known for its collaborative leadership style in which the musicians, not a conductor, interpret the score. This innovation orchestra will perform at 7 p.m. Wednesday in Helzberg Hall.
Bach, Bluegrass and Bourbon – The Kansas City Symphony performs its next Classics Uncorked concert at 7 p.m. Thursday in Helzberg Hall. After the show, enjoy a complimentary glass of wine while mingling with Symphony musicians in Brandmeyer Great Hall. A special selection of bourbons also will be available for tasting.
Madama Butterfly – The Lyric Opera of Kansas City presents the Puccini classic opera for three performances at 7:30 p.m. Wednesday and Friday, and the finale at 2 p.m. Sunday in Kauffman Theatre. See the Lyric Opera listing below for more information.
Wynonna returns to the Big Town for an encore performance with the Kansas City Symphony in a celebration of great music, performing her country hits and rock classics along with staples of the American Songbook. This long-awaited reunion is set for 8 p.m. Saturday in Helzberg Hall.
KU Symphony Orchestra presents A Centenary of Conflict in commemoration of the 100th anniversary Armistice Day marking the end of World War I. The evening's music selections commemorate loss and offer renewed hope for a peaceful world. This special performance is set for 7 p.m. Sunday – Armistice Day – in Helzberg Hall.
Knuckleheads Saloon– the hottest honky tonk in the Big Town – features a whopping 16 shows this week, including Sky Smeed in the Gospel Lounge at 8:30 p.m. Friday; The Weepies at 8 p.m. Saturday; Black Lillies Band CD Release at 10 p.m. Saturday; and Skatalites at 8 p.m. Sunday.
Lyric Opera presents Madama Butterfly where young love falls for an old lie, and so begins what may be the greatest argument against long distance relationships ever made. Puccini pours melodic perfection (and keeps 'em coming) as "the happiest girl in Japan" eagerly marries a swaggering, shallow U.S. Navy man who embodies the phrase "love is fleeting." The final three performances are set for Wednesday, Friday and Sunday in the Muriel Kauffman Theatre.
The Midland
presents one of America's most cherished entertainers 
Carol Burnett
in a memorable evening of laughter and reflection at 7:30 p.m. Tuesday. The 85-year-old actress and comedienne was awarded the Presidential Medal of Freedom in 2005 "for enhancing the lives of millions of Americans and for her extraordinary contributions to American entertainment."
Power & Light District will feature rapper JA RULE in concert at 8 p.m. Saturday in the KC Live! Block.
The Record Bar will light up the Crossroads with six nights of live music including The Alarm with Julia Othmer at 8 p.m. Wednesday and Robert DeLong with Y God Y at 8 p.m. Sunday.
The Truman will be flying high this week with two rockin' shows, including a sold-out performance by The Greeting Committee with special guests Brother Moses and Rachel Mallin + The Wild Type at 8 p.m. Saturday; and Behemoth – the Polish extreme death metal band – at 7:30 p.m. Sunday.
LIVE THEATER is thriving on Downtown stages, including three productions this week:
Of Mice and Men – John Steinbeck's classic text explores the decay of the American dream, and the enduring kindness that bond friends together for life. The Kansas City Repertory Theatre presents this dramatic giant through Nov. 19 on the Copaken Stage.
Rudolph the Red-Nosed Reindeer: The Musical – Back by popular demand, the beloved television classic soars off the screen and onto the stage this holiday season. Rudolph and his friends, Clarice, Hermey the Elf, and Yukon Cornelius learn what makes you different makes you special. Performances begin Tuesday and continue through Dec. 31 at The Coterie at Crown Center.
Show Boat – one of the most influential musicals in history and redefined how musical stories were told – opens Friday at the MTH Theater at Crown Center. The landmark collaboration between Jerome Kern and Oscar Hammerstein II runs through Nov. 18.
ARTS – your guide to arts and culture in greater Kansas City:
LIVE MUSIC – of all tastes and flavors – is performed at these Downtown venues on most nights:
MUSEUMS are alive and well throughout Downtown, including these 16 destinations:
For more of what's happening in Downtown and Kansas City, check out our friends at VisitKC.com
https://www.downtownkc.org/wp-content/uploads/2018/10/Butterfly-Production-Image.png
325
250
Mike
http://www.downtownkc.org/wp-content/uploads/2017/05/DowntownKC_Logo_REVoutline.png
Mike
2018-11-05 03:26:06
2018-11-05 03:26:06
Poppies, Butterfly, Wynonna & Carol to light up Downtown