Community Improvement Districts
The Downtown Community Improvement District  launched the Tree Well Adoption program with the primary goal of enriching the experience of the Central Business's and River Market's workers and residents while encouraging sustainability through the use of low-water, urban tolerant plant species.
Jazz District Community Improvement District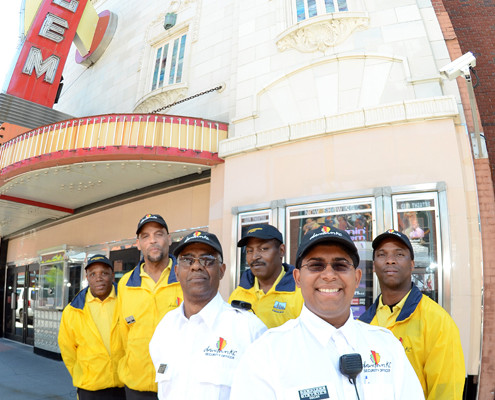 The Downtown Community Improvement District (DCID) has partnered with the City of Kansas City, Missouri to provide Clean and Safe services to the property owners of the 18th & Vine Jazz District. By providing these services in a polite and courteous manner, we will create an atmosphere that allows an enjoyable quality of life and successful commerce.
The Community Improvement Districts (CIDs) in the Central Business District and the River Market have made 'clean, green and safe' the mantra of Downtown Kansas City. The CIDs have an annual budget of $3 million, which provides 22 maintenance ambassadors and 27 safety ambassadors for the two districts.
Safe and Sound CBD & River Market
Public Safety Ambassadors provide a reassuring presence on Central Business District & River Market streets seven days a week. Our uniformed 'yellow jackets' are visible throughout the these neighborhoods as they work the Kansas City Central Library, Metro stops, key intersections, streets, parking lots and special events. Our Public Safety Ambassadors serves as a first point of contact for emergency needs; helping maintain order and deferring crime through their consistent coverage and visibility.
Clean, Strong & Healthy Neighborhood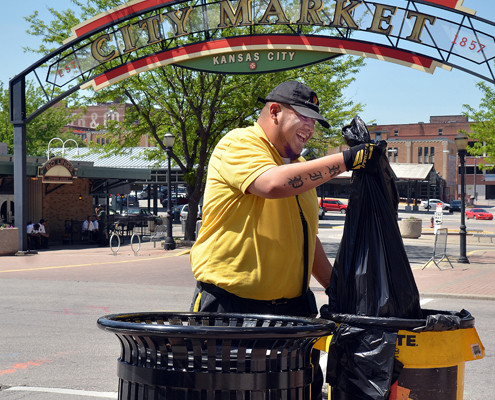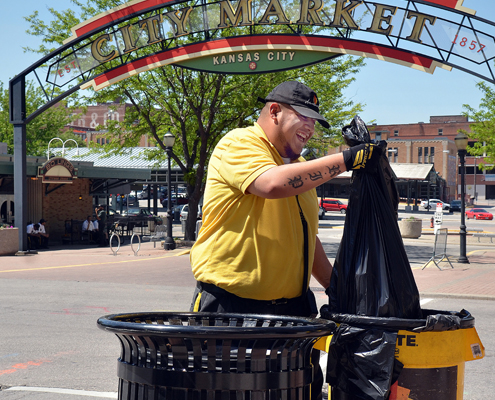 To ensure a remarkable urban experience everyday, the Public Maintenance Ambassadors are focused on the benefits of keeping Downtown streets clean, friendly and inviting. Ambassadors quickly remove graffiti, stickers and illegal posters throughout the CBD and River Market. They routinely identify and report deteriorating and broken infrastructure to the City's 311 Action Center, thus allowing consistent service to ratepayers. Our Public Maintenance Ambassadors sweep sidewalks at least twice daily and they have a zero tolerance policy for graffiti. Specially trained teams use solvents and high pressure washers to blast graffiti from multiple levels of building walls, light poles and street furniture.
Greening Up the Physical Environment
Improving the physical environment and they pedestrian experience are crucial to Downtown's quality of life. Through a partnership with the City of Kansas City, Missouri, the CID receives Public Improvements Advisory Committee (PIAC) funding to make improvements, including these in Spring 2014:
1,500 square feet of landscaping installed
200 linear feet of sidewalks installed
24 damaged trees removed
24 2.5 inch caliper trees installed
24 fire hydrants painted
20 light poles painted
7 decorative flags installed
8 trash receptacles installed
4 park benches installed
CID Initiatives, Partnerships
&

Programs
Mark Rowlands
Downtown & River Market CIDs
1000 Walnut, Suite 200
Kansas City, MO 64106
816.421.5243