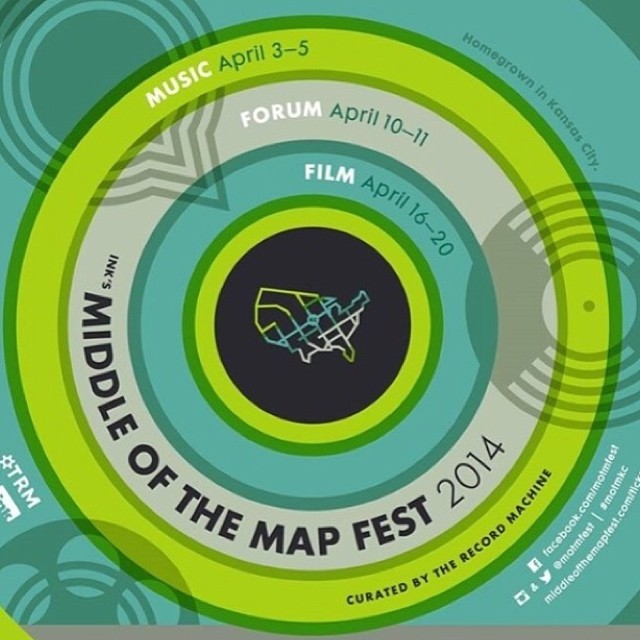 Buckle up! The third annual Middle of the Map Fest, curated by The Record Machine, returns to Westport and Downtown Kansas City over the next three weekends. 
Middle of the Map Fest has gained national attention to Kansas City for its three weeks of Music (April 3-5 in Westport), Forum (April 10-11 in Downtown) and Film (April 16-20 in Downtown).
The first Downtown events will begin with the Middle of the Map Fest Forum at The Kansas City Star Press Pavilion on Thursday, April 10
 Ink's Middle of the Map Fest Forum is the convergence of the arts, tech and cultural communities in America's heartland. The Forum features compelling speakers and panel participants discussing a wide spectrum of topics. It is an event that represents the Midwest's diverse arts, culture, and technology communities and seeks to enrich the public's understanding of the elements that make Kansas City unique.
 At the opening party from 5:30-9 p.m. on Thursday, April 10, guests can connect with Forum speakers and participants over cocktails and interactive art, including a special projected light installation created by Quixotic, where dance, sound and technology seamlessly play together. George Packer from the New Yorker, author of The Unwinding, will be the featured guest from 5:30 – 6:30 p.m. 
Friday, April 11 will feature a full day of panelists and presentations starting at 8 a.m. and concluding at 6 p.m.
Tickets are available for purchase online at middleofthemapfest.com for $25. The first 200 tickets purchased will include a pass to a special Forum event held on April 23 with guest speaker Austin Kleon, New York Times bestselling author and one of SXSW's Keynote Speakers on creativity in the digital age.
2014 Ink's Middle of the Map Fest Full Forum Participants
50+ speakers and panelists including: Matt Baldwin, Baldwin Denim; Matthew Barksdale, Engage Mobile; Jason Bays, Kung Fu Robot; Tyler Beckett, Hugo Tea; Cameron Calder, Burn the Lot; Julie Cole, Charlotte Street Foundation; Jason Domingues, Prairie Goods; Shane Evans, Artist; Colby Garrelts, Bluestem and Rye; Damian Garcia, Dark Horse Distillery; Jason Grill, JGrill Media; Shane Guiter, KCPT; Matthew Hufft, Hufft Projects; Sly James, Kansas City mayor; Austin Kleon, Author; John Kreicbergs, Propaganda3; Mike Lundgren, VML; Mike McCamon, water.org; Louis Meyers, Folk Alliance; Eric Miller, Gossup; Brian Mirakian, Populous Activate; Dylan Mortimer, Artist; Danny O'Neill, The Roasterie; George Packer, Author; Mi-Ai Parrish, The Kansas City Star; Kyle Rogers, Knoda; Patrick Ryan, Port Fonda; Leroy Shatto, Shatto Milk Company; Chris Shaw, Tech Trek; Richard Shipley, localstart.org; Anne St. Peter, Global Prairie; Jon Stephens, KCCVA; David Sullivan, ArtsTech; Ryan Sutton, Pinsight Media+; Celina Tio, Julian, Collection and The Belfry; Paul Tyler, ArtsKC; Tyler Vanwinkle, Leap2; Erik Wullschleger, Sprint Accelerator
 About Ink's Middle of the Map Fest
Ink's Middle of the Map Fest annually curates and cultivates the unique arts and creative culture of the Midwest, bringing together a sense of community in local and national talent in an annual festival featuring music, forum and film. In addition to The Record Machine and Ink magazine, the Music Fest is also curated by promoters Steve Tulipana of The Record Bar, Neill Smith of The Riot Room and Terry Taylor of Mammoth Production.