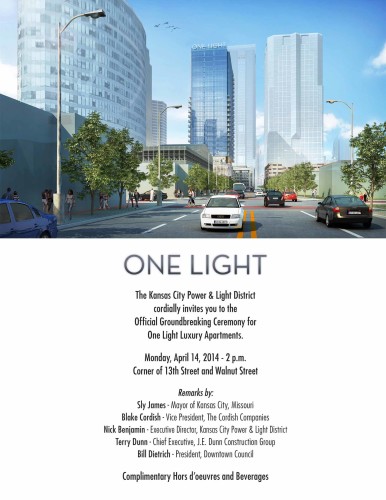 You are invited to a milestone event in Downtown Kansas City at 2 p.m. Monday at 13th & Walnut.
A ground-breaking ceremony is set for Monday in the Power & Light District, where officials will ceremonially welcome the One Light luxury residential tower to the Downtown neighborhood.
The Cordish Co. will break ground on the 25-story apartment project at 2 p.m. Monday. It intends to make One Light the first of four residential towers that will be built in the Downtown Power & Light District.
One Light, the first new residential tower built Downtown since the 32-story San Francisco building opened in Crown Center in 1976, was first announced 19 months ago, but Cordish officials said design tweaks to the 315-unit building delayed its construction start.
To learn more about One Light, check out the project announcement in The Kansas City Star and a recent KCPT story about the project and residential growth in Downtown.