Open Studios weekend — on Friday 5/25 and Saturday 5/26 — will showcase the work of artists in Charlotte Street's Residency Program in three different Downtown locations.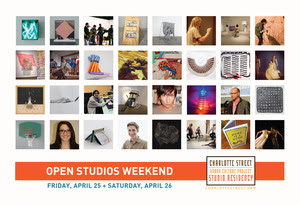 This two-day event provides the public with a chance to meet the artists; learn more about their work and processes; attend live music, dance and theatrical performances; readings; temporary installations; participatory activities; artist talks; special sales and more.
Open Studio events will run from 6 to 9:30 p.m. Friday, April 25 at the PaARTnership Place, 906 Grand, 13th floor, and 6 to 10 p.m. at Town Pavilion, 1100 Walnut, 6th floor
The weekend continues on Saturday, April 26 with events from noon to 2 p.m. at the Paragraph Gallery, 23 E. 12th St., and at 3 p.m. at Oppenstein Park, 12th & Walnut.
The outdoor performance at Oppenstein Park will feature guest artists from Bali, along with the Indonesian Community of KC Dancers. The concert features traditional and modern Balinese music, plus a new music and dance creation composed and choreographed by the Balinese guests and centered on promoting world peace.
For more information, click here.