The Kansas City Business Journal  was on hand recently to cover the grand re-opening of the 1881 building and to welcome its new, first floor tenants, the Milwaukee Delicatessen and Sasha's Baking Co.
Reporter Rob Roberts' story appeared in The Business Journal in late November. Here is an excerpt: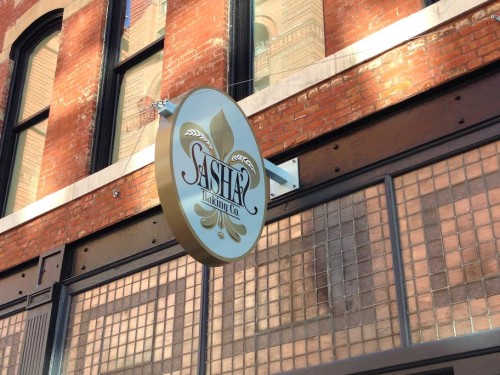 Vacant since 1995, the historic Cosby Hotel at Ninth Street and Baltimore Avenue came back to life in late November with a celebration of the building's restoration and the opening of its first two tenants.
But one of the attendees at a morning ribbon-cutting at the Cosby was celebrating more than that.
Phil Kirk, retired chairman of DST Realty Inc., explained that the efforts of the 1881 building's co-redevelopers, Jason Swordsof Sunflower Development Group and Lon Booher of Framework Design, have put a nice bow on a catalytic downtown revitalization effort that began a block away.
In 2004, the Downtown Council of Kansas City completed its restoration of the First National Bank Building at 10th Street and Baltimore for use as the opulent new central library location for the Kansas City Public Library system. Kirk, who was instrumental in that project, said the goal was for it to spur other improvements in the neighborhood, including new streetscaping and the reuse of surrounding vacant buildings.
"There were nine empty buildings around the library," Kirk said, "and this is the last one to be put back into circulation."
Three years ago, City Manager Troy Schulte said, the city was "literally 30 days from wiping this building off the face of the Earth." Plans for the dilapidated building to be bulldozed and replaced with a parking lot had been finalized when the Downtown Council and preservationists led by Historic Kansas City stepped in with a campaign to rescue the building, he said.
To read the complete story, click here.