Crossroads Charter Schools will open a Downtown High School at a temporary location on the Park University Downtown campus beginning in fall 2018. (Courtesy of The Star.)
The dream of a Downtown Kansas City high school is about to become a reality.
Earlier this year, Crossroads Charter Schools, a network of three schools in the heart of Downtown Kansas City, Mo., revealed the launch of Crossroads High School. Today, Park University and Crossroads announced a partnership for Crossroads High School to utilize the University's Downtown Campus Center as its temporary home through July 2019.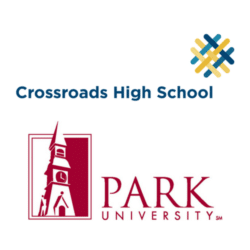 This fall, the first class of 30 Crossroads High School freshmen, along with five faculty and staff, will occupy three of the University's classrooms during the day on the third floor of the Commerce Tower redevelopment at 911 Main Street. Crossroads anticipates 70 more students will be added for the 2018-19 academic year while a permanent high school building is prepared to open in fall 2019. Also, as part of the partnership, Crossroads students will have opportunities to visit the University's flagship campus in Parkville, Mo., to gain additional exposure to college life.
Crossroads will host an open house for its students and parents on Friday, June 9, from 5 to 6:30 p.m. at Park's Downtown Campus, to provide a sneak peek of the opportunities they will have to engage in the downtown community and its accessibility to the city's streetcar line, which has a stop outside the building.
"We are excited that Crossroads students will expand their studies in this newly renovated, high-tech, university setting," said Dean Johnson, executive director of Crossroads Charter Schools.
Crossroads opened its first elementary school in 2013 in an office building in Downtown Kansas City and by 2017 enrolled roughly 570 students in kindergarten through eighth grade in two Downtown locations.
"Park University is excited to work with Crossroads Charter Schools as it expands to provide education to high school age students," said Kena Wolf, associate vice president for campus center operations at Park. "These students give the University a unique opportunity to partner in creative and innovative ways, and support our mutual desire to bring convenient education opportunities to the downtown community, which Park has provided since 1974."
Kirsten Brown, a current teacher at Crossroads, will be the founding principal of Crossroads High School. For more information about Crossroads Charter Schools, visit www.crossroadsschoolskc.org/.
To read more about the Crossroads High School announcement, visit The Kansas City Star at http://www.kansascity.com/news/local/article152737769.html and The Kansas City Business Journal at http://www.bizjournals.com/kansascity/news/2017/05/25/crossroads-high-school-temporary-location.html.
—
Founded in 1875 in Parkville, Mo., a suburb of Kansas City, Park University is a nonprofit, private institution that is a national leader in higher education. In 2000, Park achieved university status and now serves 17,000 students annually at 40 campus centers in 21 states and online, including campus centers in Parkville, Independence and Downtown Kansas City, Mo.; Austin and El Paso, Texas; Barstow and Victorville, Calif.; and 33 military installations across the country. www.park.edu
Crossroads Charter Schools, which opened in Downtown Kansas City, Mo., in 2012, prepares and inspires students to build a better tomorrow by providing an academically rigorous K-12 education in a creative, collaborative, community-focused environment. Crossroads Academy – Central Street, is a K-8 school at 10th and Central, and Crossroads Academy – Quality Hill, is a K-3 school at 11th and Washington. www.crossroadsschoolskc.org
http://www.downtownkc.org/wp-content/uploads/2017/05/hs-park.png
500
500
Mike
http://www.downtownkc.org/wp-content/uploads/2017/05/DowntownKC_Logo_REVoutline.png
Mike
2017-05-26 04:31:33
2018-05-16 12:29:19
Crossroads to launch Downtown high school at Park U. urban campus