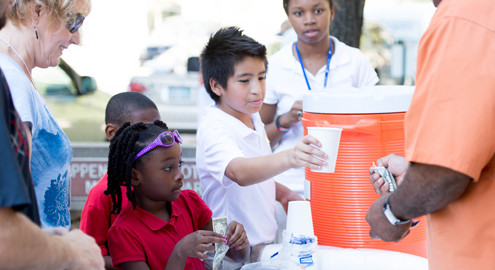 Students and staff from the Crossroads Academy – Downtown's K-8 charter school – will be celebrating the beginning of the new school year with Downtown lemonade stands this Wednesday.
Make plans now to stop by one of six lemonade stands during your lunch break tomorrow. Students will be selling lemonade for $1.00 per cup between 11:30 a.m. and 12:30 p.m. Wednesday (Aug. 26)!
The students will be accompanied by Community Improvement District Ambassadors as all six of the lemonade stands. Be sure to stop by the stand that is most convenient for you:
l* 10th & Baltimore (Central Library)
* 11th & Broadway (DST Systems)
* 11th & Main (Planet Sub)
* 12th & Walnut (Oppenstein Park)
* 12th & Oak (City Hall)
* 13th & Main (Power & Light District)
The annual lemonade stands are a fundraiser and friend-raiser for the Crossroads Academy.
http://www.downtownkc.org/wp-content/uploads/2014/08/crossroadslemonade.jpg
400
495
Mike
http://www.downtownkc.org/wp-content/uploads/2017/05/DowntownKC_Logo_REVoutline.png
Mike
2015-08-25 04:23:40
2015-08-25 04:24:21
Student lemonade sales are set for Wednesday