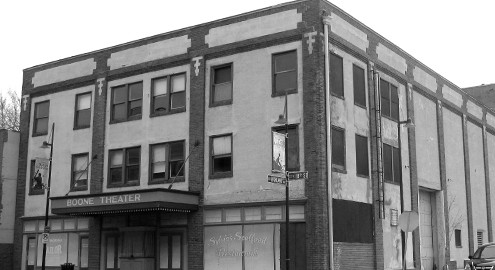 The Downtown Council of Kansas City and the Arts Council of Metropolitan Kansas City are pleased to announce we have been awarded an Our Town grant from the National Endowment for the Arts (NEA), one of only 51 grants awarded nationwide. The Arts Council and Downtown Council will receive $200,000 to contribute to the restoration of the Boone Theater in the Historic Jazz District at 18th & Vine.
Our Town is the NEA's latest investment in creative placemaking, through which partners from both public and private sectors come together to strategically shape the social, physical, and economic character of a neighborhood, town, city, or region around arts and cultural activities.
The NEA grant will support the predevelopment, design and community planning phases of the restoration of the 89-year-old Boone Theater, which is listed on both the Kansas City and National Registers of Historic Places. The long-abandoned building has been boarded up since the 1950s.
The restoration and redevelopment of the historic Boone Theater – a $2.5 million project – is being undertaken with the goal of creating a new home for Folk Alliance International, a non-profit cultural organization presently based in Memphis, Tennessee, that fosters and promotes traditional, contemporary, and multicultural folk music and dance and related performing arts.
The Downtown Council is the official community based non-profit developer of the district under contract with the Jazz District Redevelopment Corporation and will serve as the Project Manager, overseeing all facets of the community planning process, facilities use, design studies, fiscal management, and restoration facilitation.
The Boone Theater project has the support of the City of Kansas City Missouri; the Municipal Art Commission of Kansas City, Missouri; the Jazz District Redevelopment Corporation; the American Jazz Museum; and the Folk Alliance International.
Click here to download the full  Press Release.
Visit http://www.arts.gov for more information.